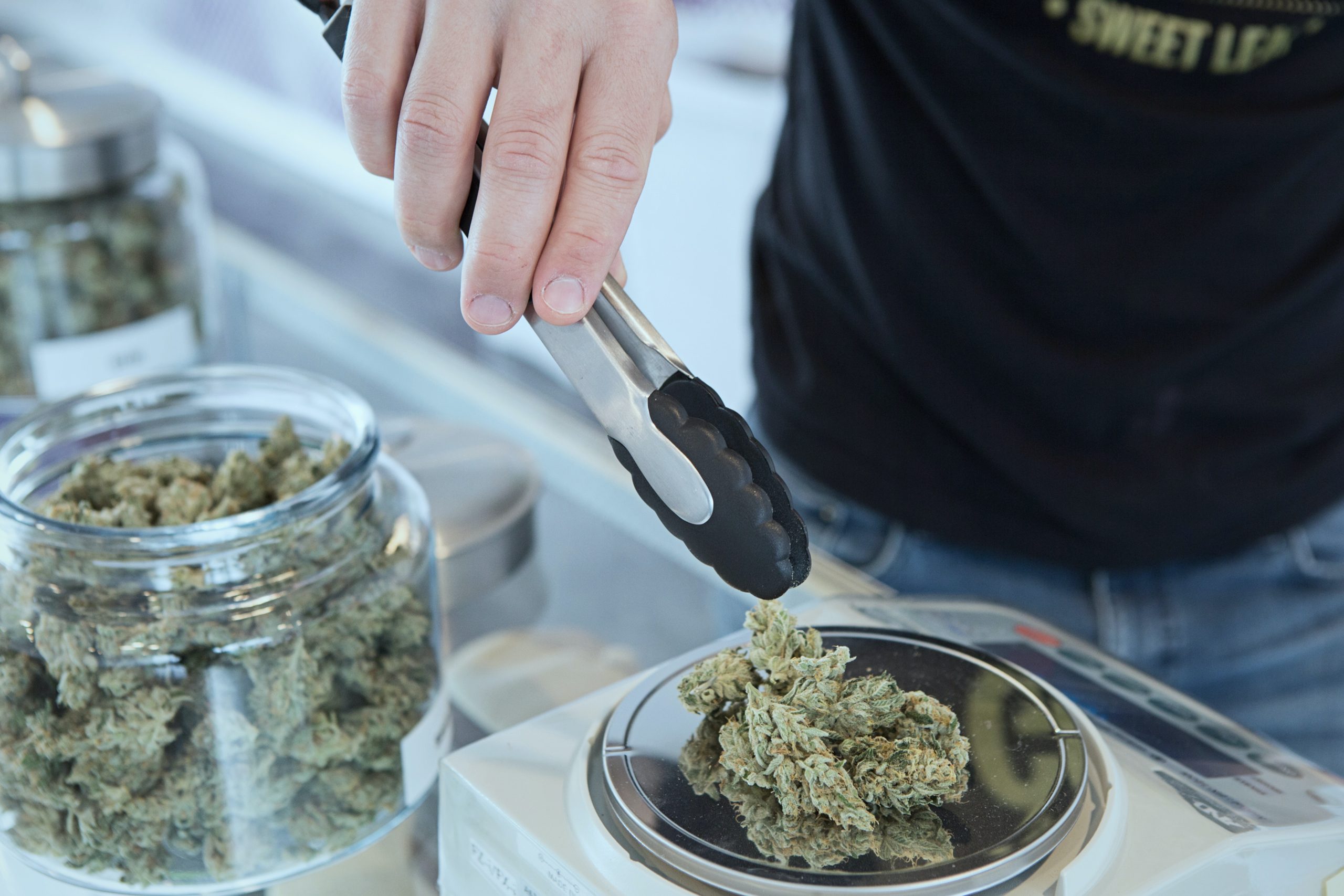 Is Weed Legal in Maryland? Plus Maryland Weed Laws & Maryland Marijuana Legalization Efforts in 2023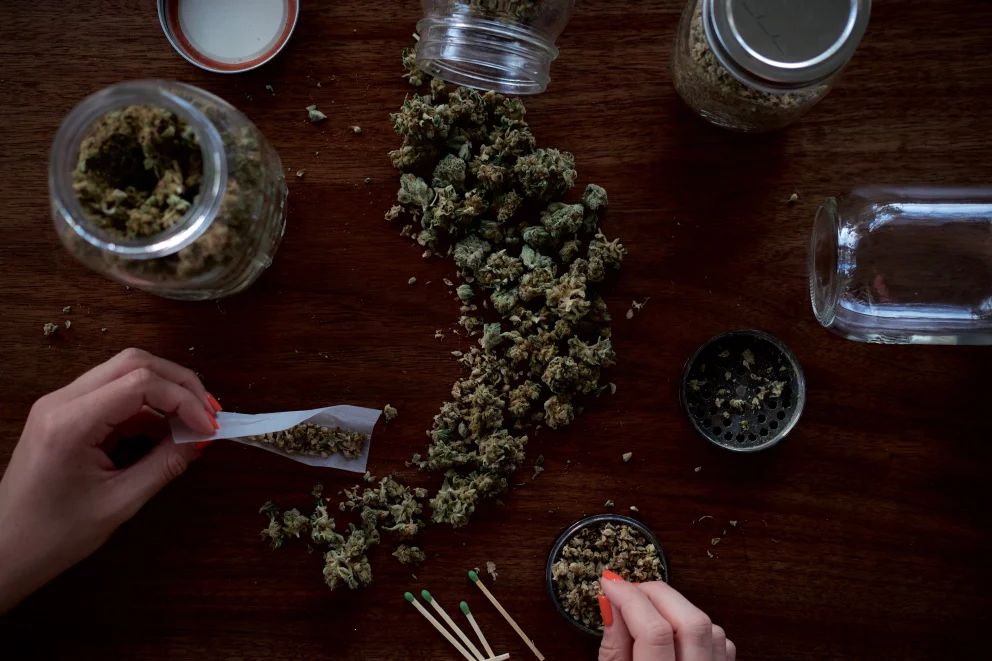 Photo by Wesley Gibbs on Unsplash
Attitudes about cannabis are shifting as states are quickly changing laws to match the growing interest in the countless benefits of cannabis. More states are passing legislation making medical or even recreational cannabis legal. Where does Maryland fall on this hot button issue?
People are getting more interested in the countless health benefits of cannabinoids, terpenes, and other valuable phytochemicals. Cannabis is a major draw to people seeking medicine, casual use, or to even make a few bucks.
Where does Maryland stand on marijuana? Can you legally buy weed in Maryland? Is weed decriminalized in Maryland? What are the laws governing medical marijuana in Maryland? This post will cover the ins and outs of Maryland's weed laws.
Our collective attitudes about marijuana are shifting from a menace to a growing interest in all of its potential benefits to our health. Not to mention, there's a financial motivation for legalization as states with successful medical marijuana programs are pushing to fully legalize cannabis for more money for their state.
Before we dive into Maryland and cannabis let's review how cannabis laws work.
Apply for a Medical Marijuana Card Online Today
Join over 100,000 patients who have chosen Green Health Docs as their medical cannabis doctors. We have a 99% approval rate and offer a 100% money back guarantee!
How Do Cannabis Laws Work?
Cannabis remains federally illegal, but many states are able to legalize it in various ways. Weed law is not as simple as changing cannabis from illegal to legal. There are certain structural legal changes that must be made to establish the infrastructure and bureaucracy to support legal cannabis purchases.
Currently, in general cannabis law there are three different statuses for cannabis legalization: medical marijuana, recreational cannabis, or being decriminalized.
The simplest legal change is decriminalization. This is not exactly legalization so much as it is making changes to possession of cannabis as a crime. As a controlled substance, possession of marijuana can carry some heavy charges and in some states even mandatory jail time. For example, West Virginia is one of the few states that still carries jail time for even minor cannabis charges.
Decriminalization is not the same as making weed legal, instead, it downgrades the crime of possession from a felony to a lesser charge. In some cases, violators may only face a ticket or a small fine rather than jail time or serious criminal charges.
The major push for decriminalization is that marijuana possession is not always fairly prosecuted. Some people can be incarcerated while others only get off with a warning. In the United States, Black Americans are 3.64 times more likely to be arrested than their white counterparts. Not to mention, with cannabis being legal in many states, someone serving jail time for a substance that's legal in other states can seem extreme.
Professor Biden signed an executive order federally pardoning people charged with possession of cannabis in DC and those federally charged. While some states may not change their weed laws, some cities have decided to decriminalize cannabis within their city limits.
Legalizing cannabis for medical use is the second main form of legalization. This requires a more robust set of regulations to manage the taxes, distribution, and management of a whole new industry.
State governments must decide which agency will manage the new medical program, what health conditions qualify for cannabis prescriptions, and in some cases, even how patients are allowed to consume weed. For example, Pennsylvania has kept edibles and smoking weed illegal. Meanwhile, in Oklahoma cannabis can be legally prescribed for any medical condition.
Often a first step for medical cannabis legalization is approving low-THC cannabis products for medical patients. Florida began with a low-dose THC program which led to the legalization of full-strength cannabis for medical patients. Often what can cause legalization attempts to die is a lack of proper planning or confusing language in the bills being written. Some states may even amend their policies before legal medical cannabis hits the streets.
Successful medical marijuana programs can often lead to the third and final form of legalization: recreational cannabis. When legalized for recreational use, cannabis shifts from a controlled substance (a drug) to a regulated product like alcohol or cigarettes. Purchasers must be of age and provide legal ID to purchase cannabis. Meanwhile, dispensaries can be open to the public.
There may be legal limits for who can grow and sell cannabis but once cannabis is legal recreationally, cannabis is essentially legal in that state. However, there may need to be some changes to local laws. This will vary from state to state. Now, on to Maryland.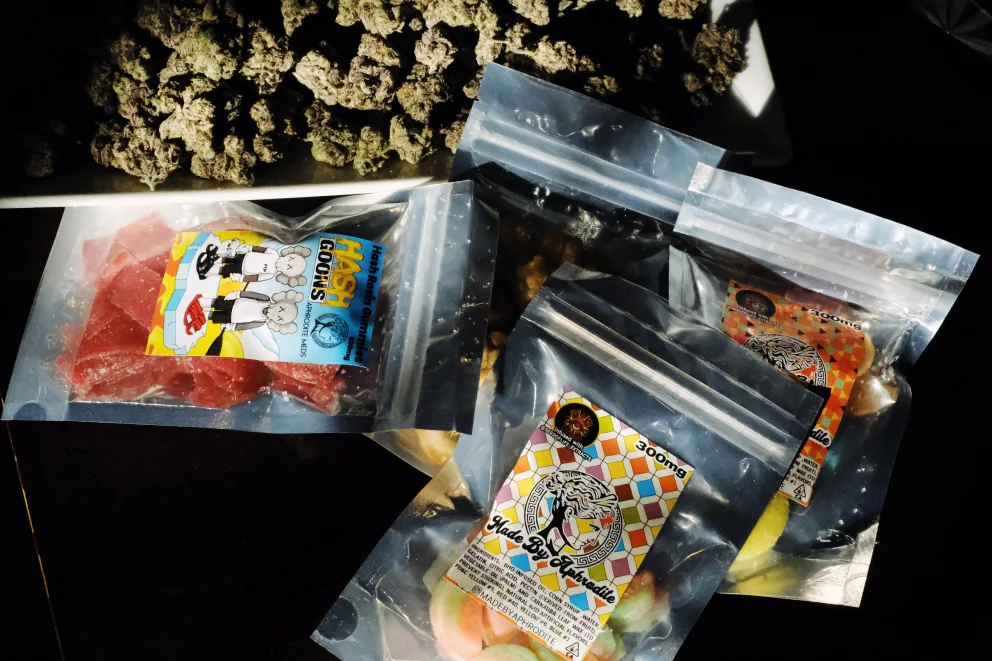 Photo by Mike Von
Is Marijuana Legal In Maryland?
Currently, marijuana is legal in Maryland! It's both legal medicinally for approved card-carrying patients and legal recreationally. While both are legal the restrictions governing the use and purchase vary slightly so you may want to choose one over the other to ensure what's best for your budget and lifestyle. We'll review those differences later in this post.
When Is Weed Going To Be Legal In Maryland?
As of July 1, 2023, recreational cannabis became legal in Maryland making it legal for purchase by anyone of age at state-sanctioned . Maryland voted to legalize some amounts of cannabis use and possession. Under the enabling legislation, adults 21 and older may possess, use, and grow cannabis.
Are Edibles Legal Maryland?
It may be surprising but some states, like Alabama and Utah, while legalizing medical or recreational cannabis, have kept edibles illegal. Often, the mindset is that cannabis-infused cookies, gummies, and other treats can entice users that aren't of age to want to use cannabis which would be illegal.
Luckily, edibles are legal in Maryland. However, they can only be obtained at a state-licensed dispensary.
Is Weed Decriminalized In Maryland?
Maryland's legalization of recreational cannabis has essentially decriminalized possession. However, cannabis has been decriminalized in Maryland for some time. Weed law actually has a pretty complex history in Maryland.
The national push for decriminalization has been about both excessive and racially profiled arrests. States have even had to decriminalize marijuana paraphernalia which in certain states have been grounds for potential arrest.
Maryland was the fifth largest state in America with regards to arrests beating the national average of 256 per/10,000 residents with a shocking 409 for every 10,000 of the population . Marijuana made up 49.9% of drug possession arrests with black residents 2.9 times more likely to be arrested.
By 2014, Governor Martin O'Malley signed a bill into law that decriminalized possession of up to 10 grams of marijuana. This reduced charges to a civil infraction which essentially made it a ticketable offense. This severely reduced the charges by eliminating jail time and having more affordable fines including:
$100 for first time offenses
$200 for second-time offenses
$500 for subsequent offenses
The 2019 court case Pacheco v. State established that the smell of cannabis, combined with possession did not have sufficient probable cause to warrant the arrest. This was a major legal movement as many of these cases of possession have often been predicated by the odor of weed being "probable cause" to search someone's vehicle or person.
Additionally, under the revised laws Md. Code, Criminal Procedure § 10–105.3, Md. Code, Criminal Law § 5-601, people incarcerated for possession can apply for resentencing which could reverse or alter the charges.
Is Selling Weed Legal In Maryland?
While recreational cannabis does open up the state to the open sale of marijuana it is still regulated by a government body. In Maryland, the Maryland Cannabis Administration manages the legal sales of cannabis. Only state-licensed dispensaries are allowed to sell weed.
According to Md. Code, Criminal Law §§ 5-601, 5-602, and 5-607 and Md. Code, Alcoholic Beverages and Cannabis § 36-401 the illegal sale of cannabis is a misdemeanor punishable by a fine of up to $5,000 and up to 3 years in prison.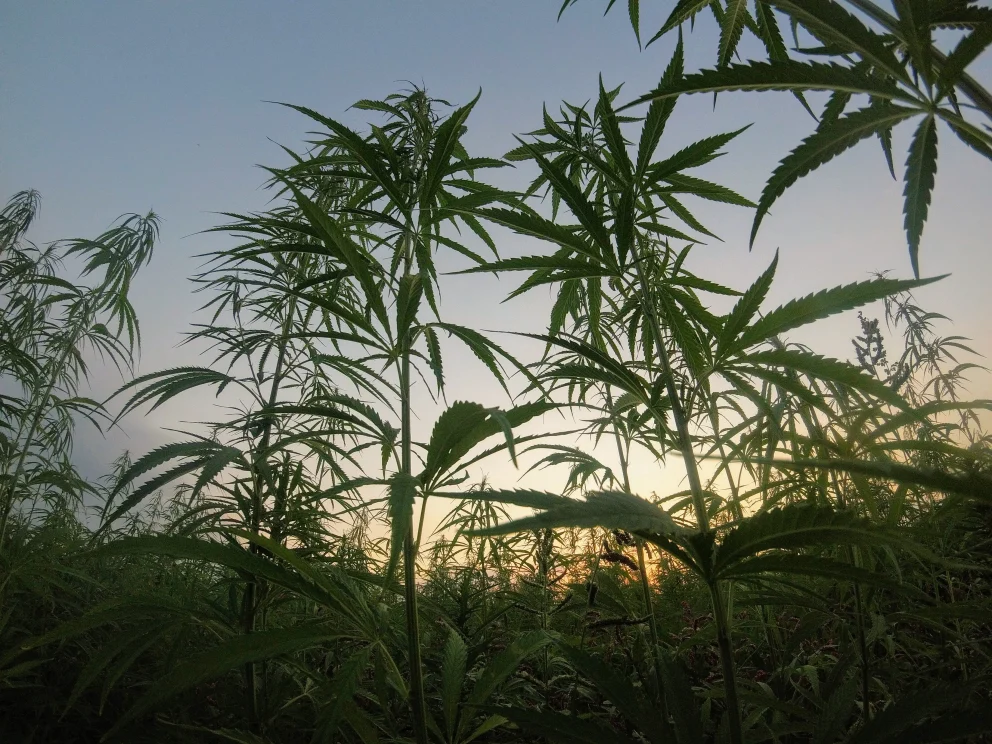 Photo by Matteo Paganelli
Is It Legal To Grow Pot In Maryland?
With states with legalized recreational and medical marijuana, it can be legal for residents to grow their own cannabis. However, before you buy plots of land there are limits.
Maryland residents can only own 2 cannabis plants. If you live with another 21 year old legal resident, you can still only grow 2 plants on the property. According to Md. Code, Criminal Law § 5-601.2, you must own the property on which you're growing said plants, they must be contained in a locked enclosure and not able to be viewed by the public.
The History of Maryland Weed Laws
As far back as 2003, there were legal changes regarding medical marijuana. Governor Bob Ehrlich signed a bill that did not legalize medical marijuana but it decriminalized cannabis for seriously ill patients using marijuana to manage pain or symptoms. It reduced fees to $100 and eliminated jail time.
It would not be until 2013 that Governor O'Malley would sign legislation establishing any form of medical marijuana. However, it did not have any infrastructure. Instead, it allowed only academic medical centers to administer cannabis to patients.
In 2014, O'Malley signed a bill into law that established the Maryland Medical Cannabis Commission ( MMCC) and established the infrastructure for diagnosing, establishing dispensaries. 550 healthcare providers – including physicians, midwives, nurse practitioners, podiatrists, and dentists – registered to prescribe medical marijuana. Dispensaries would not open until 2017.
The booming medical industry in 2019 caused Maryland legislators to establish a task force to seek out the potential benefits of recreational legalization.
Maryland Marijuana Laws 2023
Legalizing recreational cannabis involves a significant amount of legal, structural, and administrative changes to implement. This can be what can cause delays not just in legalization but implementation.
In 2023, two major pieces of legislation were passed into law: SB516 and HB 556. As part of a Cannabis Reform initiative these laws made all the required changes to the existing medical marijuana laws. It specifically outlined all the governmental changes required to open up a recreational cannabis industry throughout Maryland.
It established the Maryland Cannabis Administration as a department of Maryland government. It created the regulatory and licensing system for adult-use cannabis including converting straight medical cannabis licenses, for dispensaries, to licenses to operate as both a medical and adult-use cannabis businesses.
These laws established the sales and use tax of 9% on all recreational sales. Outlined how who could hold licenses for dispensaries and how they'd be dispatched. It formally changed the name of the Alcohol and Tobacco Commission to be the Alcohol, Tobacco, and Cannabis Commission. The reform even outlined an entire section of Diversity Equity and Inclusion.
Their DEI initiatives include recognizing black farmers who won the 1999 class action lawsuit, Pigford v. Glickman. This discrimination case against the US Department of Agriculture found that these farmers were discriminated against and did not receive equal access to loans or aid. It cited that they had "not been fully compensated for the discrimination they have endured and that they have experienced ongoing discrimination or the continued effects of past discrimination."
The law also said that the department is required to "conduct extensive outreach to small, minority, and women business owners and entrepreneurs who may have an interest in applying for a cannabis license." Applying for and receiving cannabis licenses involve completing comprehensive applications, a ton of bureaucracy and can be highly competitive but license holders can make major money with marijuana.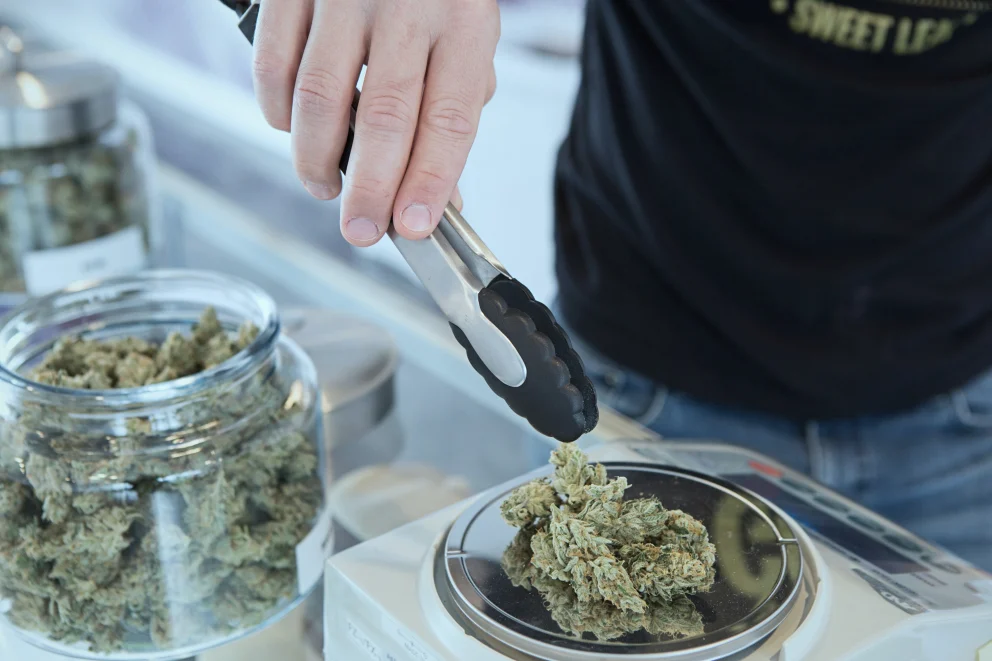 Photo by Budding
Recreational Marijuana In Maryland
While the legal changes legalized recreational marijuana, legalization does not remove regulation. This doesn't mean everyone can do whatever they want with regards to cannabis. It essentially switches cannabis from a controlled substance and illegal drug to the status of alcohol or cigarettes.
There are also cannabis-specific regulations. Smoking cannabis (and hemp) is prohibited in any public place including indoor and outdoor spaces and public vehicles. Cannabis is also still federally illegal so it's heavily prohibited in federal buildings and locales like national parks.
You can be charged with a DUI for driving or riding a car while under the influence of cannabis under Maryland law. Law enforcement can make a cannabis DUI arrest if you fail a standard field sobriety or roadside test.
There are also caps for how much cannabis products you can legally purchase. Recreational consumers can only purchase:
1.5 ounces of cannabis flower (including joints and pre-rolls)
12 grams of concentrated cannabis
No more than 750 mg of THC's worth of edible products
Recreational vs. Medical Marijuana
While it is convenient to purchase recreational cannabis, there are benefits to having a medical marijuana card and purchasing cannabis medically in Maryland. There are a few differences between the medical program that favors patients who qualify.
Here are the top reasons it's better to be a medical marijuana card holder vs. a standard recreational client:
Medical patients save 9% on the taxes they pay on all medical cannabis purchases.
Medical patients can legally purchase and possess more cannabis products. They're legally allowed to obtain 4 ounces while recreational consumers can only purchase 1.5 ounces.
Medical patients can grow more plants and are legally allowed to obtain and grow 4 plants while the recreational cap is 2.
Medical patients also have access to a different suite of products including higher THC content like stronger edibles, Rick Simpson Oil, resin and rosin products.
Medical patients can skip lines. Most Maryland dispensaries prioritize serving medical patients and will allow you to go ahead of recreational buyers.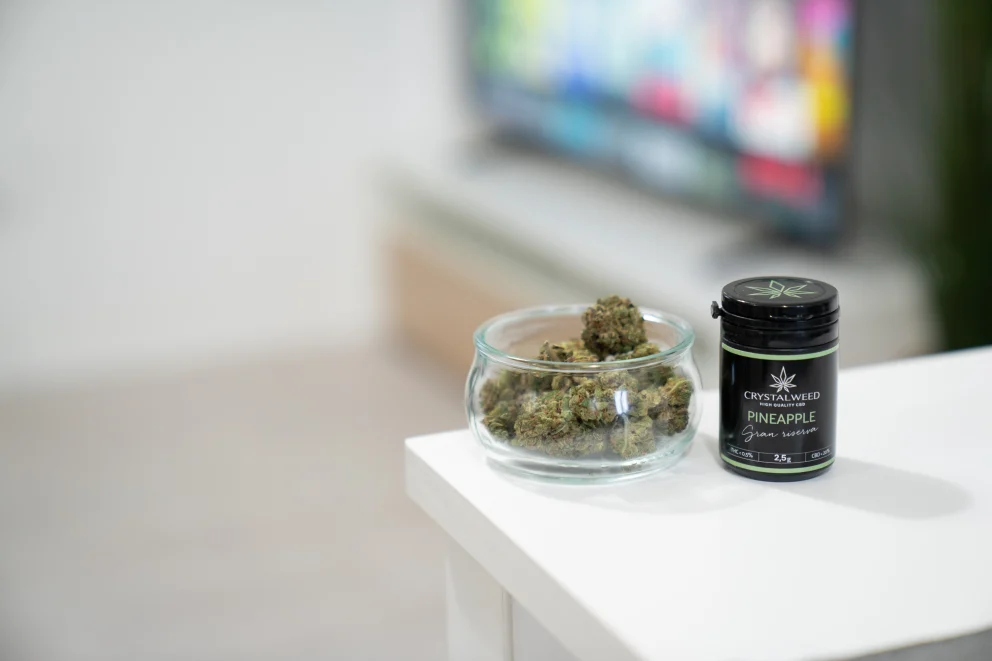 Photo by CrystalWeed Cannabis
How To Get A Medical Marijuanas Card In MD:
Getting your medical marijuana card can be a fairly complex process. There are some nuances, bureaucracy, and a fair amount of paperwork. If you need help getting your medical marijuana card in Maryland click here.
To get your card, Maryland residents must be over 21 however, minors and caregivers can obtain their own cards. To start, applicants must sign up in the medical section of the Maryland Cannabis Administration's website. To apply patients must have:
A valid, accessible email account.
Full 9- digit Social Security Number
An electronic copy of a valid government-issued photo ID
Proof that applicant lives in Maryland
A non-refundable $25 fee
A written certification from an in-person meeting with a registered medical provider with whom the patient has a "bona fide provider-patient relationship."
Patients must have one of the approved medical conditions available for Medical Marijuana in Maryland include:
Cachexia
Anorexia
Waiting Syndrome
Severe Or Chronic Pain
Severe Nausea
Seizures
Severe Or Persistent Muscle Spasms
Glaucoma
Post-Traumatic Stress Disorder (PTSD)
One important factor is it must be a chronic or debilitating disease or medical condition severe where other treatments have been ineffective.
The process of getting your medical marijuana card can be fairly elaborate in Maryland. The licensed provider must review your entire medical history, confirm you have a qualifying condition, and you must establish that you have a "bona fide provider-patient relationship."
To simplify the process, consider getting help with Green Health Docs.
Final Thoughts
Cannabis has countless benefits that have not only been confirmed by and embraced by medical professionals but becoming the norm in America. Cannabinoids, flavonoids, and terpenes can all benefit your body. Thankfully, now Maryland residents can legally see for themselves.
If you'd like to preserve some of the bonuses of getting a medical marijuana card and need help finding a doctor or want to streamline your application sign up with Green Health Docs today.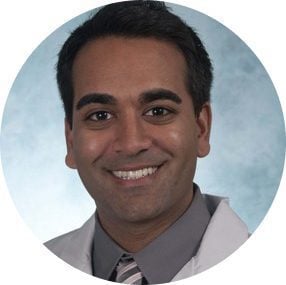 This article has been reviewed by Dr. Anand Dugar, an anesthesiologist, pain medicine physician and the founder of Green Health Docs. Graduating from medical school in 2004 and residency in 2008, Dr. Dugar has been a licensed physician for almost 20 years and has been leading the push for medical cannabis nationwide.