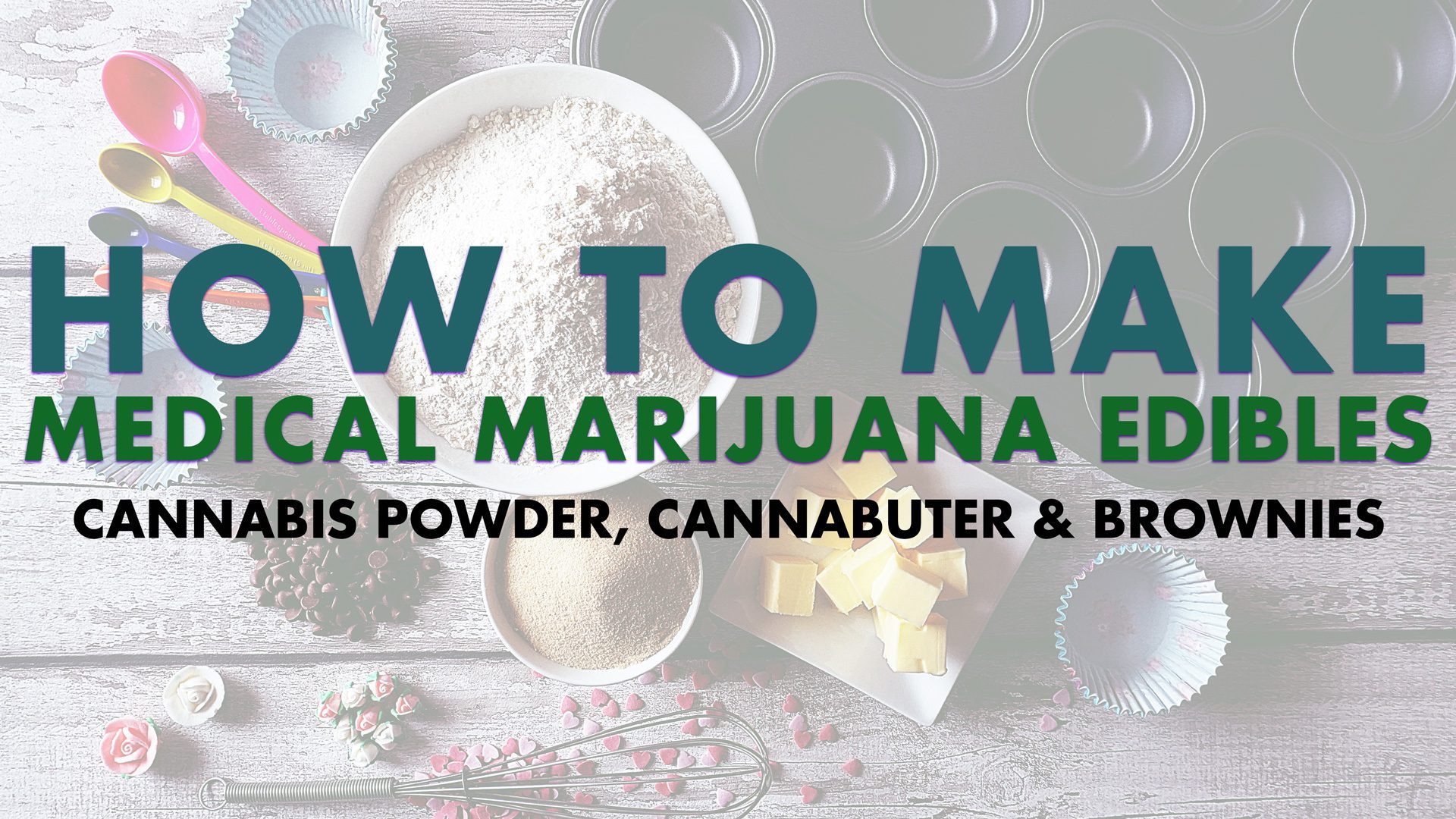 Medical Marijuana Edibles: Making Cannabutter & Brownies
Cannabis administration methods have come a long way since the introduction of smoking. Edibles are an easy method for patients to consume medical cannabis without having to vape or smoke marijuana. But many patients don't know how to make edibles. We take a look at how to make medical cannabis powder, as well as cannabutter for brownies and other recipes.
Marijuana Edibles – A History
One of the most common ways patients medicate is by eating a medical cannabis edible. Edibles are foods that have been infused with the active chemical compounds found in cannabis. 
Edible medicines (even cannabis variations) have existed for hundreds of years, but cannabis edibles were first popularized in 1954. This is when the first cannabis recipe was published in the cookbook, The Alice B. Toklas Cook Book. 
Since that time, cannabis has been infused in a number of foods, from brownies to cookies, ice cream, candy, gummies, and even teas, water and soda! There's virtually no limit to what kinds of foods can be infused with cannabis. If you can make it, it can probably have cannabis added to it.
Can You Buy or Make Cannabis Edibles?
Edibles can be purchased in a medical marijuana dispensary. They can also be made with raw cannabis. This cannabis is usually converted into a butter or oil. Cannabis oils can also be purchased from some dispensaries, depending on the state.
As of this writing, Missouri does not have any open dispensaries. But patients can possess and grow cannabis (with authorization), which means that patients can make cannabis edibles. Maryland offers raw flower and oils in their dispensaries. For a list of dispensaries, click here.
Benefits of Edibles
Safer
Smoking and vaping can be difficult on the lungs for patients with immune disorders, cancer or lung conditions. Edibles are an easy way to dose with cannabis without having to smoke or buy an expensive vaping device.
Tastier
Who doesn't like a good treat, be it a brownie or cookie? Foods that have been infused with cannabis can stimulate the appetite of cancer patients or AIDS/HIV patients. Patients with digestive conditions, anxiety or difficult eating will also find edibles to be an enjoyable, tasty way to medicate with cannabis.
Dosing
While edibles can pack a punch if too much is consumed, many patients prefer edibles because dosing is simple. One cookie. One bite of a brownie. Or one gummy may be all you need to feel the medicinal effects of cannabis. 
How to Make Cannabis Powder
If you vape medical cannabis, you can actually take your vaped weed and grind that down to make a medical cannabis powder. While many of the active chemical compounds have been vaporized, some THC, CBD and CBN remain. These can still yield a relaxative effect on the body. This makes cannabis powder edibles an excellent treat in the evening, a few hours before bed.
This powder can be added to any food, just like salt or pepper. Got a tasty soup? Add some vaped cannabis powder after you've cooked it and you've just made an edible! You can even sprinkle the powder onto a pizza, just like pepper flakes or Parmesan cheese. 
Cannabis powder can even be added to simple foods like applesauce. But keep in mind, cannabis binds to fats, so fattier foods like peanut butter, oils and cheeses will result is better metabolization of the edible.


Apply for a Medical Marijuana Card Online Today
Join over 100,000 patients who have chosen Green Health Docs as their medical cannabis doctors. We have a 99% approval rate and offer a 100% money back guarantee!
How to Make Cannabutter
Many edibles are made with cannabutter. While there are devices that can make this butter rather easily these days, here's a quick method you can do on your own stovetop. Cannabutter can be used topically, on foods like corn or toast, or they can be baked into foods, like brownies. 
Required Ingredients:
½ Cup Salted Butter
¼ Ounce Cannabis Buds (ground)
Medium Saucepan
Spoon for Stirring
Fine Mesh Strainer or Nut Milk Bag
Jar or Container for Cannabutter
Parchment Paper or Silicone Mat
Baking Sheet
Directions:
1. Before you make cannabutter you're going to want to activate the chemical compounds in your cannabis. To do this, simply grab a baking sheet. Be sure to line the baking sheet with parchment paper or a silicone mat. Spread your ground buds evenly across the sheet. Bake at 105 Fahrenheit for 25-45 minutes. Now your cannabis is ready!
2. Melt the salted butter on LOW in a medium saucepan. Once melted, add the activated ground buds.
3. Simmer butter and buds together on LOW for 45-60 minutes. Butter should turn somewhat green or a rich green. NOTE: You will want to be continuously stirring the butter during this process.
4. After simmering, place the bud and infused butter into a fine mesh strainer or nut milk bag (recommended) and strain the butter into a jar or container. This ensures all the active chemical compounds are strained from the cannabis and infused into the butter.
5. The strained bud can be then discarded. The infused cannabis butter can be frozen or used within a few days.
Classic Pot Brownie Recipe
Making cannabis edibles can be a fun activity for medical marijuana patients. Once you have cannabutter, you can buy any boxed brownie or cookie mix and simply swap out butter for cannabutter. Important: Don't heat your cannabutter beyond 350 degrees. This way, the active chemical compounds are retained.
Here's a quick recipe for those looking to make some classic pot brownies:
Required Ingredients:
½ Cup Cannabutter
½ Cup All-purpose Flour
⅓ Cup Unsweetened Cocoa Powder or 3 ounces of Dark Chocolate
2 Eggs w/Yolk or 4 Egg Whites
1 TSP Vanilla Extract (real or imitation)
1 Cup Sugar (or sugar substitute, adjust accordingly)
¼ TSP Salt
¼ TSP Baking Powder
8-inch Glass Pan
Directions:
1. Preheat your oven to 350 degrees. Grease the 8-inch pan.
2. Combine ingredients into a mixing pot and stir until thoroughly mixed. NOTE: Melt your cannabutter in a saucepan on LOW if hardened or frozen before mixing.
3. Spread your mixture into the greased pan. You can toss some flour over the grease before spreading to ensure easy removal of the brownies later.
4. Bake your brownies. Add the pan to your oven and bake for 25-35 minutes. Keep an eye on your brownies and make sure not to overcook them. Test them after 20-25 minutes and check the firmness of the brownies. Remove at your desired consistency. 
5. Enjoy! Drizzle with chocolate syrup or add nuts to the recipe for a little flare.
A Word of Warning About Edibles
It is worth noting that edibles can take a long time to begin to work in the system. And a little can go a long way. Because there are concentrated doses of cannabis in edibles, too much can result in a less desirable or negative reaction. Be sure to consult your Green Health Docs physician or your budtender to ensure safe, proper dosing.
Before you can make those Cannabrownies, you're gonna need a medical marijuana card! To contact our physicians and get your card, simply call 1-877-242-0362. Our team can walk you through the entire process, from setting up your evaluation (either in-person or over the phone) to obtaining your medical records, or any questions you may have about medical cannabis. We're just a phone call away, so give us a ring today.