Missouri

Medical Marijuana Card Online
Join over 100,000 patients who have chosen Green Health Docs as their MO medical cannabis doctor. We have a 99% approval rate and offer a 100% money back guarantee!
Doctor Owned And Operated
Our Agents are Patients Too
How to Get a

Missouri

Medical Marijuana Card
Schedule by filling out the form above or call/text us at 240-356-1000 to set up your consultation over the phone. We offer same-day appointments, so you can be seen by our doctor within 15 minutes of scheduling!
Our doctor will determine whether you qualify for a medical marijuanas card in MO after a quick 10-15 minute evaluation.
If approved, you'll receive your written certification the same day which you can then use to apply online with the state for your card.
How to Get a Medical Marijuana Card in

Missouri
If you don't live near one of our Missouri medical marijuana clinics, or if you're unable to meet with us in person, we also offer telemedicine evaluations to patients throughout the state. Telemedicine means you can have an online video call with our doctor using a computer, smartphone or tablet. To get started, schedule online now.
You can also call our support team at 240-356-1000, and we will be happy to set up an appointment for you. We'll send you a link via email that you can use to access our virtual waiting room at your scheduled appointment time. From here our doctor will start the video call and evaluate you to determine whether you qualify for a medical marijuana card in Missouri. It's that easy!
Missouri

Medical Card Online Requirements
You must be a Missouri resident. There is no age requirement, however patients under the age of 18 will need a parent or guardian to register as their caregiver.
Any condition can qualify if a doctor determines that medical marijuana could be beneficial. Some of the more common conditions that Missouri patients have been getting their medical card for include anxiety, depression, chronic pain, PTSD, and cancer.
No medical documentation is required in MO. Patients are encouraged to provide proof of a chronic medical condition such as medical records, pill bottles, office visit summaries, or a note from a doctor but it is not needed in order to get approved.
Our licensed MO marijuana doctor will evaluate you based on your current health condition, medical history, and any documentation you are able to provide as proof. If approved, we will then issue the written certification form needed to apply with the state as a patient within 24 hours.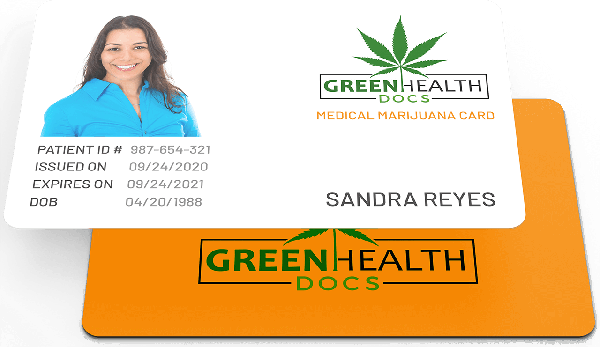 Missouri Medical Marijuana Card Appointment
Getting your Medical Marijuana Card in MO is now easier than ever with Green Health Docs' convenient online appointments. Schedule your Telemedicine Medical Marijuana Card appointment today!
How to Get a

Missouri

Medical Marijuana Card In‑Person
Green Health Docs has several Missouri clinics to serve patients.
Schedule an Appointment at One of Our Clinics
Have Questions About Missouri Medical Cannabis?
Missouri

Medical Marijuanas Card Certification Process
The certification process in Missouri is similar to many other medical states. Patients will need to obtain a Physician Written Certification Form from a licensed medical marijuana doctor first in order to apply with the state for a medical card.
Schedule an appointment with a licensed medical marijuana doctor.

Speak with the doctor to find out if you qualify.

Obtain your written certification form and apply with the state.

Get your electronic medical marijuana ID card and start purchasing at dispensaries!
The first step in getting your Missouri medical marijuana card is to be evaluated and certified by a state-licensed medical cannabis doctor.
It can sometimes be difficult for patients to find a doctor who will certify them. We currently offer in-person evaluations at our 6 clinic locations as well as online telemedicine visits that allow you to be seen by a medical cannabis doctor from the comfort and security of home, making the search for a physician easy for you.
If you believe that you have one of the qualifying medical conditions and have at least one type of proof, then you will most likely qualify. Our doctor can evaluate you, review any medical documentation you are able to provide, and issue your certification so that you can apply for your card.
The next step after being certified by a doctor is to register and apply online with the Missouri Department of Health and Senior Services (DHSS). In order to register, patients will need to have: – a signed Physician Written Certification Form – a government-issued identification card (such as a driver's license or passport) – proof of Missouri residency. You will also be required to upload a passport size photo (from the shoulders up with a white background; no hats or glasses). This photo can be taken on any camera or cell phone and then cropped to the appropriate dimensions on the DHSS website. If you're having trouble submitting your application to the state or any part of the registration process, we recommend contacting the state directly for assistance at 866-219-0165.
Missouri

Medical Marijuana Card Information from our Physician
Recently several dispensaries finally opened their doors in the state of Missouri. This is an exciting time for patients who have waited so long to get the medicine they need. Even with dispensaries opening and Missouri's medical marijuana program gaining momentum, many patients are still unclear on how to obtain a Missouri medical card. Green Health Docs have helped over 100,000 patients navigate through this confusing process, and we can help you get certified as well.
Apply For Your

Missouri

Medical Marijuana Card Today
If you're a Missouri resident and believe that you have a chronic condition that could benefit from medical marijuana, then you will most likely qualify. You will first need to be evaluated by a licensed medical marijuana doctor. Once approved, you will receive your written certification that you can use to apply with the state as a patient to get your card. If you have any questions, give our local support center a call or text at 240-356-1000 and we will be happy to assist you.
Schedule now or give us a call/text at 240-356-1000; our friendly support team is available 7 days per week to set up a date and time for you to get evaluated by a medical marijuana doctor in Missouri and to answer any questions you may have.
You will need a photo ID and if possible, some type of proof of your qualifying condition such as medical records, pill bottles, office visit summaries, doctor's notes, etc. If you are unable to get proof of your condition, you can still get approved! Contact us at 240-356-1000 to find out how.
The cost to be seen by our doctor for the initial Missouri medical marijuana certification is $150. The annual cost to renew is also $150. The price includes assistance with state registration, medical marijuana education, the doctor's visit, and any other help needed throughout the process. For in-clinic appointments we accept cash, credit, or debit and for telemedicine it's credit or debit only. The required state application fee is $25 and an additional $100 for the home cultivation license, payable online by credit or debit only.
Only a licensed medical marijuana doctor can determine if you qualify for the program, so we cannot guarantee your approval. However, if you do not get approved by our doctor you will receive a FULL refund! Our knowledgeable and friendly support staff is ready to help get you fully prepared for your appointment so that you have the best chance of approval, just give us a call at 240-356-1000 if you would like to know more.
A registered Missouri medical doctor will examine you, review any medical documentation you are able to provide, and assess your medical history. Appointments are typically about 10-15 minutes. We will also maintain your patient records and provide follow-up care as needed.
Any condition that our doctor determines could benefit from the use of medical marijuana can qualify. Anxiety, depression, chronic pain, PTSD, cancer, autism, glaucoma, seizures, severe nausea, muscle spasms, anorexia, cachexia, and wasting syndrome are just some of the qualifying conditions and symptoms. Feel free to call us at 240-356-1000 to find out if your condition qualifies.
You can fax your records to 240-366-1932 or you can have them emailed to info@greenhealthdocs.com.
No. Physicians must hold a valid license to practice medicine in Missouri and register with the Department of Health and Senior Services in order to certify patients for a medical marijuana card. All of our doctors here at Green Health Docs are registered with the state and demonstrate the knowledge and compassion necessary to give you the highest possible quality of care.
Yes. Veterans can obtain medical marijuana in the same way as any other patient at Green Health Docs. We are proud to help our veterans combat their medical conditions with medical marijuana!
Yes. Children (under the age of 18) can become medical marijuana patients in Missouri. However, the child must have a parent or guardian register as his/her caregiver.
Caregivers provide a service for medical marijuana patients (including those under 18) who cannot or do not wish to go to a dispensary to purchase their medical marijuana. A caregiver is able to purchase medical marijuana on behalf of the patient as well as help adminster the medication. Caregivers are only appointed by patients and must be 21 years or older and register with the DHSS as a caregiver.
The Missouri Department of Health and Senior Services online medical marijuana registry is open and can be accessed here. The application fee is $25 for both patients and caregivers. If you're having trouble getting registered, you can contact us at 240-356-1000 or visit one of our Missouri clinic locations for assistance.
No. Insurance companies do not cover any costs associated with medical marijuana due to conflicts with federal law.
Legal patients can obtain medical marijuana products from licensed dispensaries located throughout the state. Patients will also be able to use their card in other medical states that offer reciprocity, such as Oklahoma.
No. The state decided not to issue physical ID cards, but patients are required to have the digital copy of their medical ID card in order to be able to purchase from dispensaries.
A medical marijuana patient may possess up to 120 grams (approximately four ounces) of medical marijuana flower and other medical marijuana products in a 30-day period.
Dispensaries in Missouri currently carry a wide range of medical marijuana products including raw flower, concentrates, vapable products such as cartridges, oral products such as capsules and tinctures, topicals such as patches and creams, and more. Our doctor along with dispensary staff can help determine which forms may be best for you.
Yes! Missouri medical patients and caregivers interested in growing will need to apply for a separate cultivation license when registering with the DHSS. The license is $100 in addition to the $25 application fee. Those with a cultivation license will be able to grow up to 6 flowering and 6 nonflowering plants at one time in a closed, locked facility that is indoors.
No, as a medical patient you are protected by HIPAA. Green Health Docs makes the privacy and security of our patients' confidential information a top priority. No one will be able to find out your status as a medical marijuana patient unless you openly tell them or if you are administered a drug test for marijuana.
Yes. With Missouri being an at-will state and there not currently being any legislation in place that protects medical marijuana patients in the workplace, medical cardholders can still be administered drug screenings and receive disciplinary action regarding the results of drug screenings. For this reason, we recommend making sure you are fully aware of your employer's policy regarding drug screenings and medical marijuana before moving forward with the process.
Missouri does not have any restrictions regarding patients on probation or parole, however, you must get permission from your probation or parole officer first before pursuing a medical marijuana card.
As a legal medical marijuana patient, you are protected. Patients do not have to disclose that they possess medical marijuana and do not have to consent to a search. However, if a search is conducted and medical marijuana is found, the patient should immediately present their patient ID card or direct law enforcement to the DHSS database to show that they are a legal patient.
No. You must be certified in Missouri by a registered medical marijuana doctor to legally access and purchase from dispensaries in the state.
Yes, there are multiple states currently accepting Missouri medical cards including Oklahoma. The laws for using out-of-state medical cards vary from state to state, so the best way to find out is by contacting a dispensary in the state you're interested in visiting to find out for sure.
You will need to be seen by a doctor once per year in order to remain certified. The expiration date for your certification can be found on your MMCC written certification. The fee to be re-certified is $150. You will also need to re-apply with the state every 3 years in order to remain registered as a patient. The expiration date for your state registration is found on your MMCC patient ID card. The fee to register with the state again is $50.
Yes! You do not have to be seen by the same doctor each year. If you were certified by another medical marijuana doctor last year and would like to switch to Green Health Docs, we will be happy to take care of you!
Medical Marijuana Card in MO
Frequently Asked Questions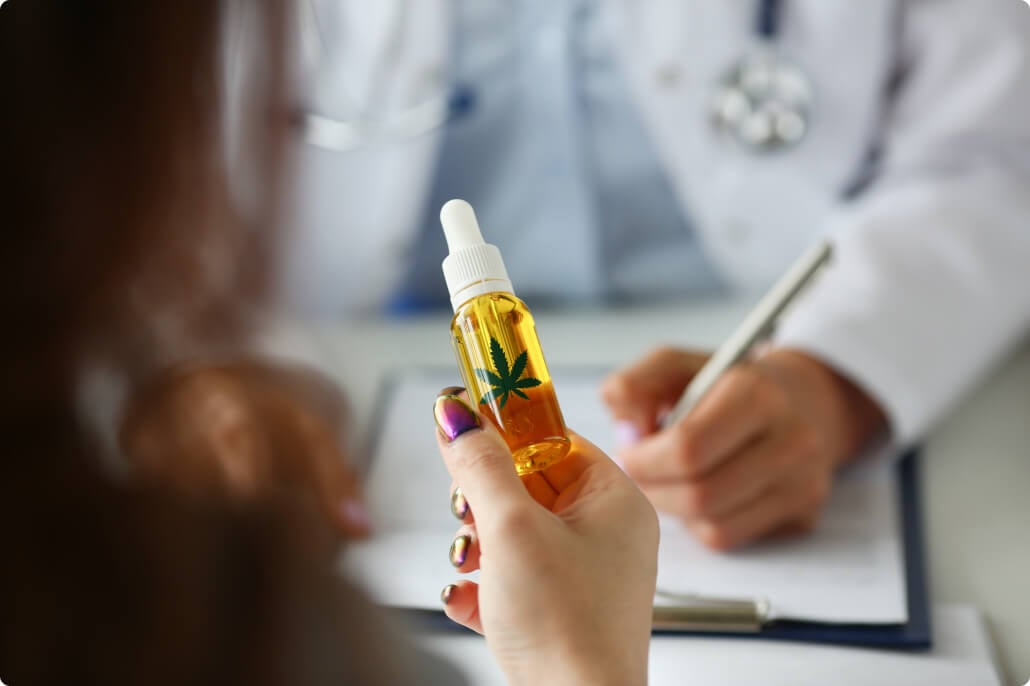 Here are a few important resources for patients (or family of patients) hoping to obtain a Missouri medical card or learn more about medical cannabis: