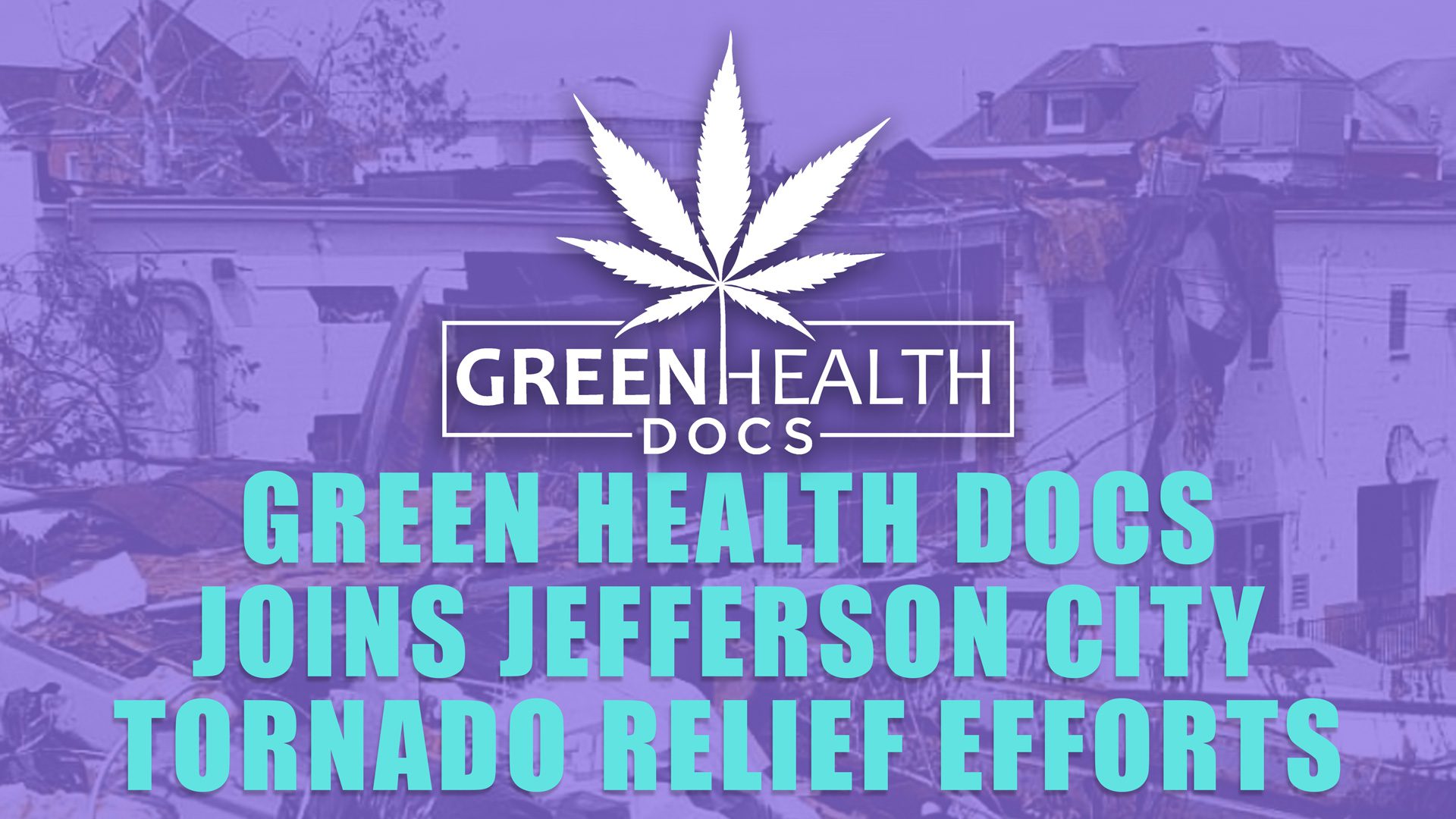 Jefferson City Tornado Relief – Green Health Docs Offers Support
A powerful storm system recently plowed through Jefferson City in Missouri. While this storm won't slow the progress of medical marijuana in the Show-Me State, our team wanted to offer our support in providing Jefferson City tornado relief. We also outline where and how you can contribute to this cause.
Tornado in Jefferson
The news that Jefferson City in Missouri was struck by a powerful tornado hit our team hard. These types of storms are horrific, no mater where you are. And this year has been particularly tough, with several more weeks of tornado season still to come.
According to KC3 in Kansas City, the Jefferson City tornado drew a staggering 32-mile path of destruction before finally dissipating. Flooding into the Missouri river is ongoing. The city expects it to take months, if not years, for the community in Jefferson City to return to its former glory. Below is drone footage of the tragic aftermath, provided by Fox 2 in St. Louis.
Green Health Docs Joins Jefferson City Tornado Relief Efforts
The Green Health Docs Advocacy Team was absolutely devastated to learn about what this tornado did to our community here in Missouri. Patrick Wilson, Green Health Docs patient advocate, was able to drive around and snap some photos of the damage, included here in this post. "This place is torn apart," he noted. "And in order to be in service to the community, we must be OF service to the community. That's why we've got to help out."
The Green Health Docs Advocacy Team quickly joined forces with other local businesses, including Elite Home Growers, Anteedote X Consulting, Regus Columbia and Affiliated Court Services. Together, we have taken up a small collection to help out our fellow neighbors.
"We are more than just a medical marijuana clinic," Dr. Anand Dugar, owner of Green Health Docs stated. "Green Health Docs is a part of Missouri's ever-evolving community, and we are wanted to be able to provide whatever relief we could for those affected by this terrible storm."
How YOU Can Help Relief Efforts in Jefferson City
Thankfully, Jefferson City, and surrounding areas, are getting a lot of help. According to KMIZ in Columbia, the Missouri Housing Development Commission has approved over $100,000 in relief funds. But this will only go toward rebuilding houses. This is where you come in!
You can join the Jefferson City Tornado Relief efforts by visiting the following websites and donating your time, money or items to help Jefferson City residents.
American Red Cross – Become a Red Cross Volunteer or make a donation. You can also call 1-800-RED CROSS, or text the word REDCROSS to 90999 to make a $10 donation.
United Way of Central Missouri – Volunteers and donations for the United Way. You can also stop by and drop off cash, check or water/item donations at their office located at 205 Alameda Drive in Jefferson City. Items needed immediately: Toilet paper, paper towels, socks, towels, toothpaste, toothbrushes, food, water and clothing.
Salvation Army – The Salvation Army provides food, water and other items to victims. You can donate to their organization here.
---
Getting Your MO MMJ Card
If you need help getting your Missouri medical marijuana card, we can help! The patient registry opens June 5, 2019, so call us at 1-877-242-0362 to set your appointment (online or our in-person Missouri clinics) today. Our support team can walk you through the entire process of obtaining a marijuana card. Once you have this card, you will be able to buy, grow, purchase and transport medical cannabis. Watch the video below to learn more about Missouri's rules for growing your own medical marijuana.