Medical Weed Card Age: How Old Do You Have to Be to Buy Weed?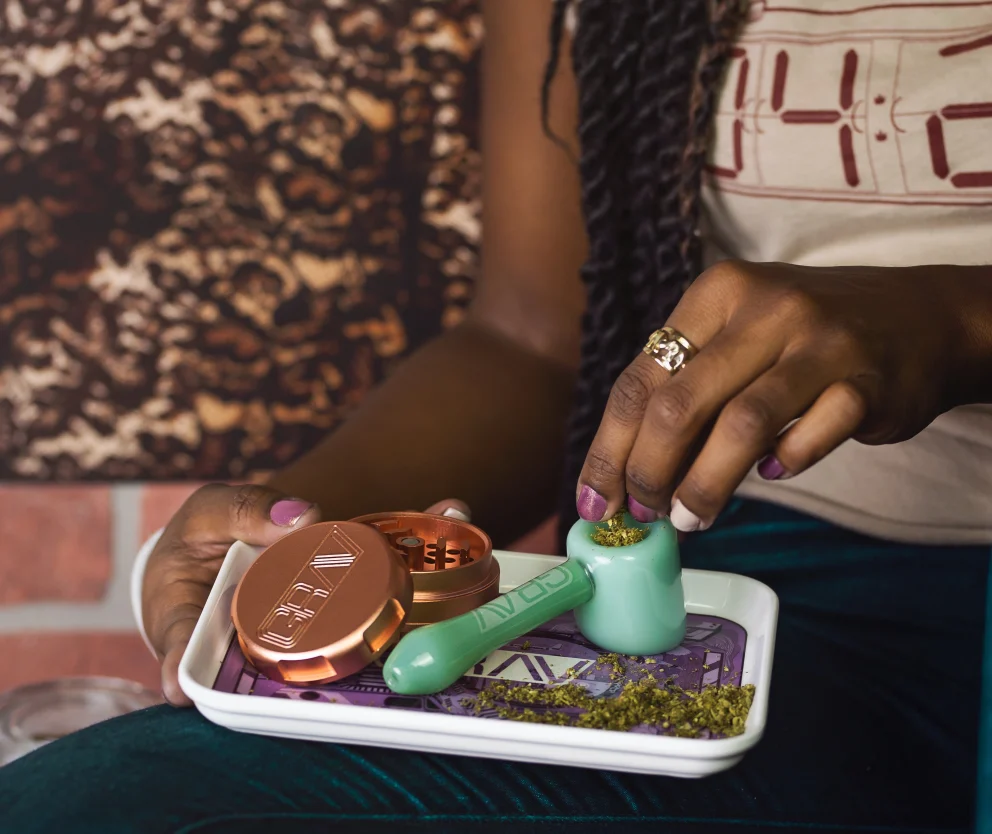 Photo by Grav
Everyone knows that in states where marijuana has been legalized for recreational use, the legal age for weed is 21, but how old do you have to be to buy weed if you possess a medical card?
To date, 37 states have legalized marijuana for medical purposes. However, few people know that the medical weed card age differs from the recreational age limit. You can obtain a medical marijuana card before you reach the age of 21 without parental consent.
In this guide, you'll learn about the legal regulations around the medical marijuana age and the requirements to qualify for a medical card before you officially become an adult.
The General Legal Age for Weed
On a federal level, there is no legal age to buy weed because marijuana remains illegal in every circumstance. Marijuana continues to be classified as a Schedule I controlled substance, meaning no legal age exists for purchasing marijuana.
Instead, the issue falls to individual states regarding whether weed is legalized for any purpose and how old you need to be to obtain a medical card.
Generally, states that have legalized marijuana for recreational use have set an age of 21 for people to make legal purchases at dispensaries. However, qualifying medical conditions could allow you to get your medical card as young as 18 without parental consent.
It may also surprise you to learn that the weed medical card age could be even lower in some states, with minors permitted to use medical weed in rare circumstances. However, every state requires minors to receive parental consent to obtain a medical card.
At What Age Can You Get a Medical Card?
How old do you have to be to buy weed?
States have varying rules on when you can obtain a medical card. However, no state permits anyone to hold a medical card if they are under the age of 18. Despite this, caregivers may still obtain a medical weed card so that they can purchase marijuana on behalf of a child with a qualifying condition.
The minimum age for medical card registrations for caregivers ranges from 18 years old to 21 years old.
States like Arkansas, Illinois, and Maine require all caregivers to receive a medical card at least 21 years old. Remember, a medical card only allows you to purchase marijuana from a dispensary. It does not prevent caregivers from making purchases on behalf of a qualifying minor.
Registrations are tightly controlled, and penalties are high. Over 1.5 million non-violent arrests per year result from marijuana. It underlines the importance of knowing the medical card age and the rules revolving around these cards.
States Where the Legal Medical Marijuana Age is 16 or Below
Can a 16-year-old get a medical card?
No state allows anyone age 16 or below to hold a medical card by themselves. Instead, a minor must appoint a designated caregiver to obtain a medical card on their behalf. State medical marijuana programs all have different rules regarding how it works for minors.
For example, Illinois allows minors to appoint up to three designated caregivers to obtain and provide medical marijuana. Under the Compassionate Use of Medical Cannabis Pilot Program Act, a range of conditions could qualify a child to receive medical marijuana.
Some examples of these conditions include:
Autism
Cancer
Chronic Pain
Hepatitis C
Multiple Sclerosis
Post-Traumatic Stress Disorder (PTSD)
A full list of qualifying conditions may be found on the Illinois Department of Public Health website. Most states have similar lists, with few deviations in which conditions qualify for an MMJ card.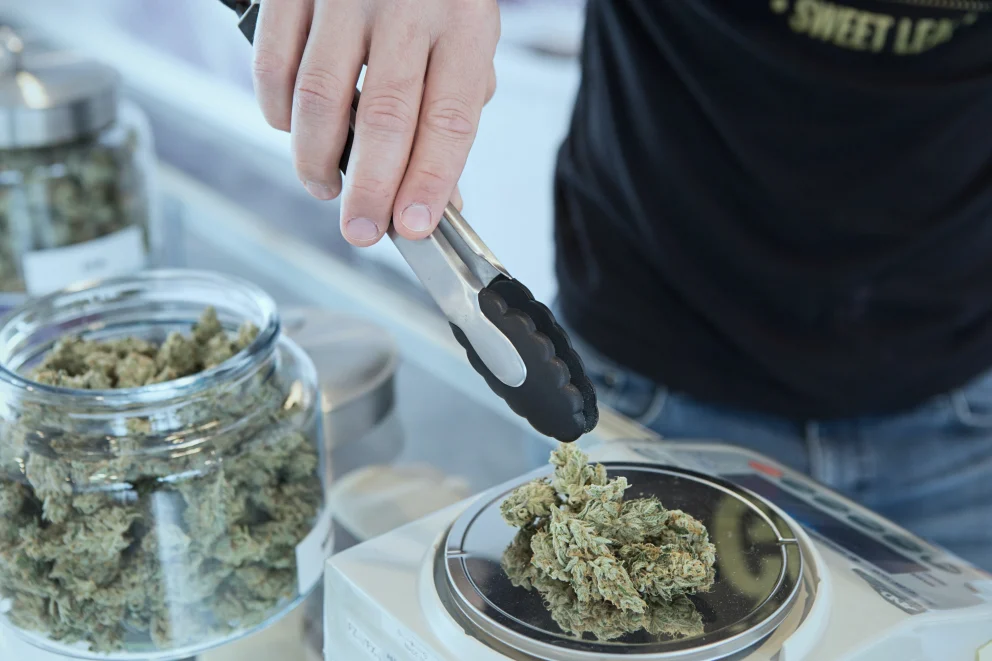 Photo by Budding
States Where the Legal Medical Marijuana Age is 18 or Below
Many states have reduced the medical marijuana age requirement to the age of 18 to facilitate minors in securing and managing their cannabis. No state allows 17-year-olds to enter dispensaries, so they will need to rely on caregivers to obtain medical cards on their behalf.
However, several states will enable you to register a medical card when you turn 18. These states are:
Alaska
Arizona
Arkansas
California
Colorado
Connecticut
Delaware
District of Columbia
Florida
Illinois
Hawaii
Louisiana
Maine
Maryland
Massachusetts
Michigan
Minnesota
Missouri
Nevada
New Hampshire
New Jersey
New Mexico
New York
Ohio
Oklahoma
Oregon
Pennsylvania
Rhode Island
South Dakota
Texas
Vermont
Washington
West Virginia
Note that these states allow anyone aged 18 or over to apply for a medical card without parental consent. This doesn't entitle caregivers to apply for medical marijuana cards on another's behalf.
States like Michigan continue to require caregivers to be at least 21 to apply for an MMJ card on someone else's behalf.
Apply for a Medical Marijuana Card Online Today
Join over 100,000 patients who have chosen Green Health Docs as their medical cannabis doctors. We have a 99% approval rate and offer a 100% money back guarantee!
States Where the Legal Medical Marijuana Age is Below 21
Most states set the medical marijuanas card age at either 18 or 21, but some states allow 19 and 20-year-old patients to apply for a medical marijuana card without a caregiver or parental consent.
One example of this is Wisconsin. According to the Wisconsin Department of Health Services, patients aged 19 can obtain a medical marijuana card, but Wisconsin is an anomaly because only low THC oils are permitted. The same age for medical weed cards applies to caregivers, parents, guardians, and nurse aides.
Despite Wisconsin taking a hard line on cannabis use, towns and cities across the state have enacted their own laws. Most famously, Madison overhauled their cannabis laws, decriminalizing recreational and medical marijuana.
Unfortunately, without a state-operated network of high-quality dispensaries, genuine medical cannabis is challenging to get in this Midwestern state.
North Dakota is the only other state that entitles 19-year-olds to obtain a medical marijuana card without parental or caregiver consent.
States Where the Legal Medical Marijuana Age is 21 or Higher
The remaining states listed below require you to be at least 21 to receive a medical marijuana card in your name. Likewise, you won't need to obtain parental consent to receive your card, but some states may have other requirements, such as requiring more than one physician to provide a recommendation for legal marijuana.
Here are the states with a medical marijuana age limit of 21 or over:
Don't see your state listed at all? If your state isn't listed, the chances are your state has yet to legalize medical marijuana. No exceptions will be made in these cases, and your only solution would be to relocate to a state that already has a medical weed program.
How Old Do You Have to Be to Buy Weed Recreationally?
Discussing the issue of how old do you have to be for medical weed may make you wonder how the rules apply to recreational weed. However, anyone who qualifies for medical weed knows that this weed is typically more potent and offers additional benefits, such as being able to purchase and possess greater amounts.
To date, just 21 states, Washington D.C. and Guam have voted to legalize recreational weed. Like the age for medical marijuana, each state is free to define its own rules on how old you have to be to purchase cannabis for recreational purposes.
Let's discuss what's the legal age for weed for each of these 21 states.
States Where the Legal Recreational Weed Age is 16 or Below
No state permits anyone aged 16 or below to purchase weed for recreational purposes. Furthermore, due to concerns regarding how cannabis influences adolescent brains, every state has banned the purchase and consumption of weed for people of this age and below.
As discussed earlier, the age for medical marijuana differs, but the qualification process is extremely strict. Typically, it's rare for anyone to be permitted to consume any form of cannabis before they turn 18.
States Where the Legal Recreational Weed Age is 18 or Below
For the same reasons as no state permits minors aged 16 and under to consume weed, no legal weed state allows recreational purchases for anyone who is 18 or below.
But how old for medical weed purchases? Some states do allow minors to receive medical weed if they are 18 or below. However, the vast majority require a designated caregiver to purchase and manage cannabis on their behalf.
States Where the Legal Recreational Weed Age is Below 21
It may surprise you to learn that no state allows recreational weed purchases between the ages of 19 and 20.
So, how old do you have to be to get weed? Most states take the view that recreational weed should be placed in the same category as alcohol. As a substance capable of causing intoxication, states have opted to prohibit recreational weed usage for anyone under 21.
The same cannot be said for Canada. The Great White North has taken a far more liberal view on recreational weed, with all Canadian provinces setting a limit of 19 years old for all recreational cannabis purchases.
Alberta is the sole exception, which permits recreational weed purchases at 18. These rules also apply to non-residents, so Americans are permitted to visit Canada and purchase recreational weed, even if they are not old enough in their home state.
Take note that you are expressly forbidden from bringing any weed back into the country via any means.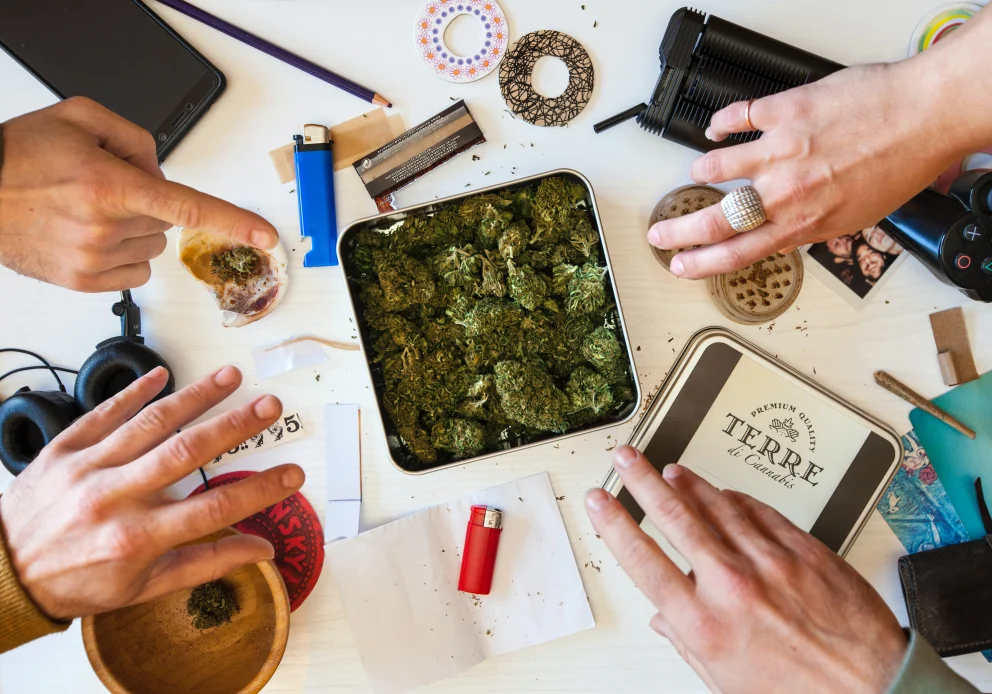 Photo by Terre de Cannabis
States Where the Legal Recreational Weed Age is 21 or Higher
What is the legal age for weed for recreational purposes? Sadly, you'll need to wait until you officially become an adult before you can legally enter a dispensary and purchase weed.
These states include:
Colorado
Missouri
Maryland
Washington
Alaska
California
Oregon
Maine
Washington D.C.
Massachusetts
Nevada
Guam
Vermont
Michigan
Montana
Arizona
Illinois
New York
New Jersey
New Mexico
Virginia
Rhode Island
Connecticut
While this is the full list of states and territories where you legally purchase marijuana, it doesn't take into account the towns and cities of America that have decriminalized marijuana possession and use.
Many towns in Wisconsin and Mississippi are prime examples of locations where recreational marijuana is illegal in all cases, but you can't be charged criminally if found with marijuana on your person.
In other words, these states have turned a blind eye to cannabis in their jurisdictions without officially endorsing its use.
What Happens if You Break the Rules on Medical/Recreational Weed?
Knowing what age you can get medical weed is crucial if you are either using it yourself or purchasing it on behalf of a qualifying minor. Knowing where you can get a medical card will detail all the rules you have to abide by regarding possession limits, transportation, and purchases within designated dispensaries.
Violating these rules can lead to criminal charges, including revoking your medical card. It can also lead to financial penalties. Like all marijuana laws, the penalties will vary by state.
However, possession of marijuana for recreational purposes typically comes with relatively small penalties in legal states. Most violations result from possessing large amounts of cannabis or concentrated cannabis, such as hashish. You may also violate the law by possessing weed in certain places, such as in schools or hospitals.
So, what happens if you find yourself in trouble with the law?
Let's examine California's approach under its Health and Safety Code. To begin with, violations depend on your age, with minors given more stringent punishments. California's rules are thus:
If you're under 18 and possess less than 28.5 grams of cannabis or eight grams of hashish, you can be given 20 hours of community service and six hours of counseling.
If you're between 18 and 21, you will likely receive just a $100 fine.
If you're under 18 and possess more than 28.5 grams of cannabis or eight grams of hashish, you can face up to 60 hours of community service and ten hours of counseling.
If you're over the age of 18 and possess more than 28.5 grams of cannabis or eight grams of hashish, you can also receive a fine of $500 or six months in county jail.
Every state will take its own approach. Firstly, every state where recreational weed is legal will have posted limits. Most penalties are limited to a fine or community service if you fall under these limits.
Crossing those limits opens up a whole array of charges because you may be charged under drug trafficking or drug dealing laws.
Familiarize yourself with the rules if you live in a weed-legal state so that you don't inadvertently find yourself fighting charges.
Old Enough? Get Your Medical Marijuana Card Today!
At what age can you get medical weed? If you're between the ages of 18 and 21, there's a good chance you're entitled to apply for an MMJ card in your state without parental approval.
At Green Health Docs, we can help you figure out how old for medical marijuana you need to be in your state and how to navigate the complex application process.
Apply for and obtain your medical marijuana card online and take advantage of highly potent weed, higher possession limits, and access to top-quality dispensaries in your state today.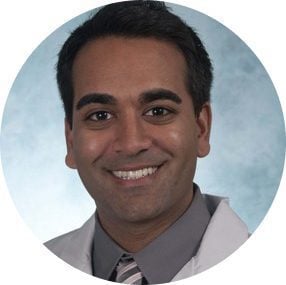 This article has been reviewed by Dr. Anand Dugar, an anesthesiologist, pain medicine physician and the founder of Green Health Docs. Graduating from medical school in 2004 and residency in 2008, Dr. Dugar has been a licensed physician for almost 20 years and has been leading the push for medical cannabis nationwide.