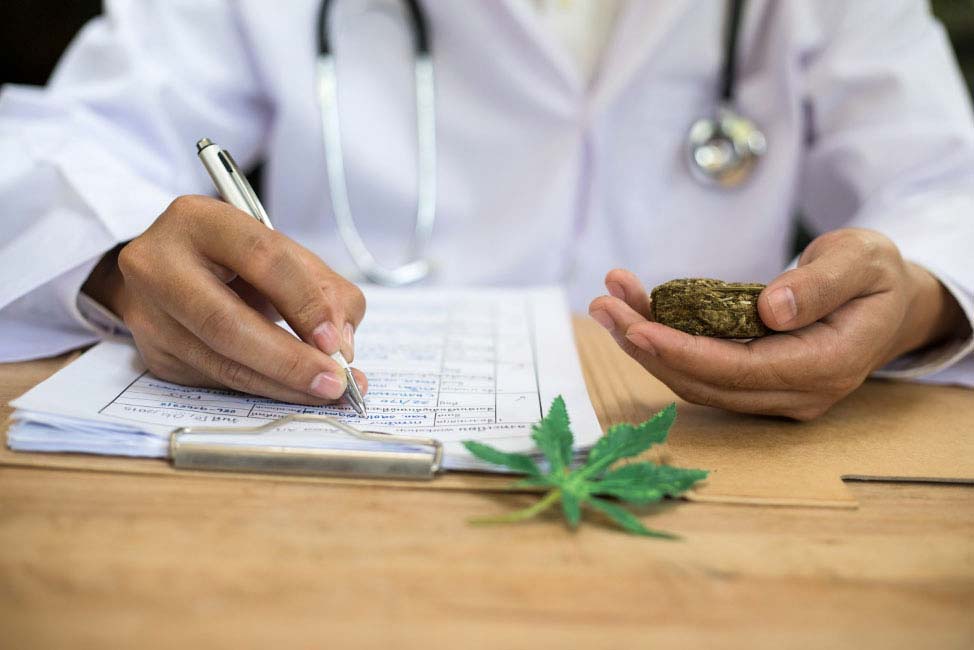 Will Medicaid Pay for a Medical Marijuana Card?
Medical cannabis is becoming a vital part of the health care system. In the thirty-five states where medical marijuana is legal, (including Puerto Rico and Washington DC), over 4 million patients currently hold a medical marijuana card.
There's a lot of demand for medical cannabis and its benefits these days. So, you may be surprised that insurance won't cover your medical marijuana card. Original Medicare, Medicare Advantage, and state Medicaid plans have yet to come out with a medical card program.
There is good news, though. If you suffer from certain severe health conditions, your cannabis-based medication may qualify for Medicaid coverage. However, you must first choose to add on an optional prescription drug plan.
What are these cannabis treatments Medicaid will pay for, and why exactly won't Medicaid and Medicare reimburse you for your medical cannabis card? We're telling you the answer to these questions and more below.
What's Considered Medical Marijuana?
Medical marijuana is also known as medical cannabis. Patients who hold a medical marijuana card can legally use cannabinoids like THC and CBD. This only applies when patients use cannabis to treat qualifying health conditions, including:
Symptoms of multiple sclerosis (MS)
Epilepsy
Inflammation and pain
Loss of appetite and nausea
Depending on where you live, your state may allow medical marijuana use for additional conditions. Also, some states have extremely short lists of conditions that qualify patients for a medical marijuana card.
Is Medical Marijuana Legal?
In multiple states across the US, medical marijuana is completely legal. Check your state laws to find out if medical cannabis is legal in your state. Be sure to investigate your state's list of qualifying conditions for a medical marijuana card.


Apply for a Medical Marijuana Card Online Today
Join over 100,000 patients who have chosen Green Health Docs as their medical cannabis doctors. We have a 99% approval rate and offer a 100% money back guarantee!
The Benefits of Medical Cannabis
In a 2019 review of systematic reviews, researchers looked into the benefits of using medical marijuana. The most common reason patients used medical cannabis was for pain. This included MS pain, pain after an injury, and cancer pain.
Movement disturbances, such as those common to Parkinson's, were the second-most common reason people turned to medical marijuana. This includes the movement disturbances that are symptomatic of MS.
Nausea and vomiting were the final most common reasons the researchers found for getting a medical marijuana card.
Drawbacks to Using Medical Marijuana
Like most medications, cannabis use (medical or otherwise) can come with a few side effects. These side effects are generally mild in nature.
For example, the 2019 review above found that drowsiness and dizziness is a common side effect. 50% of the systematic reviews cited this as a minor side effect.
Why Medicaid Won't Cover Your Medical Marijuana Card
Because Medicare and Medicaid are federal programs, and cannabis is still illegal under federal law, these programs won't pay for your medical marijuana card. Under Medicaid, you have to opt-in to prescription drug benefits anyway.
If you do add on prescription drug coverage, there are special circumstances in which cannabis treatments are covered. We'll talk more about that below, but keep in mind that even adding on prescription drug coverage won't cover a medical marijuana card.
Medicaid Benefits Explained
States are required by law to provide Medicaid plans to low income individuals. These health care packages have a list of mandatory benefits plans in all states must offer. Among others, Medicaid mandatory benefits include:
Inpatient and outpatient services
Home health services
Physician visits
Lab and x-ray services
Family planning services
Many states also offer optional benefits you can add to your Medicaid plan. This includes services like physical and occupational therapy, podiatry, optometry, and dental.
Importantly, you can also get Medicaid coverage for prescriptions. This includes any marijuana-related medication that the FDA has approved.
Cannabis Treatments Medicaid Will Cover
By now you might be wondering if there's anything cannabis-related Medicare does cover. The answer is yes! There are currently two FDA-approved medications that are federally legal.
That means you can get the following two treatments if you add prescription drug coverage to your plan.
Dronabinol
Dronabinol is known by its brand names Marinol and Syndros. This medication helps treat nausea and vomiting. The FDA has approved dronabinol for two patient populations: people with AIDS and people undergoing treatments for cancer.
AIDS and cancer treatments cause weight loss as a side effect. dronabinol is approved to help stimulate appetite and reduce a phenomenon called wasting.
The ironic thing about this medication is that it doesn't actually contain cannabinoids. Instead, dronabinol is made up of synthetic THC. This is why dronabinol has been legal in the US since the 1970s.
Are you suffering from AIDS wasting or nausea and vomiting from cancer treatments? If so, you'll likely qualify for Medicaid coverage for your dronabinol prescription.
Epidiolex
The FDA approved the US's first-ever non-synthetic cannabis treatment, Epidiolex, in 2018. This prescription helps prevent seizures. It has also been especially effective against childhood epilepsy and treatment-resistant epileptic seizures.
If you have epilepsy and your physician think Epidiolex can help, your prescription will likely qualify for coverage under Medicaid.
How to Get Your Medical Marijuana Card
Medical marijuana cards aren't covered under Medicaid plans just yet. This is because cannabis is still federally illegal, and the FDA hasn't approved it for medical use.
If you suffer from AIDS, epilepsy, or are undergoing cancer treatments, Medicaid may cover your Dronabinol or Epidiolex prescription.
Still interested in getting a medical marijuana card even though it isn't covered under Medicaid? You've come to the right place. Book your in-person or virtual appointment with our medical marijuana card doctors now at Green Health Docs.