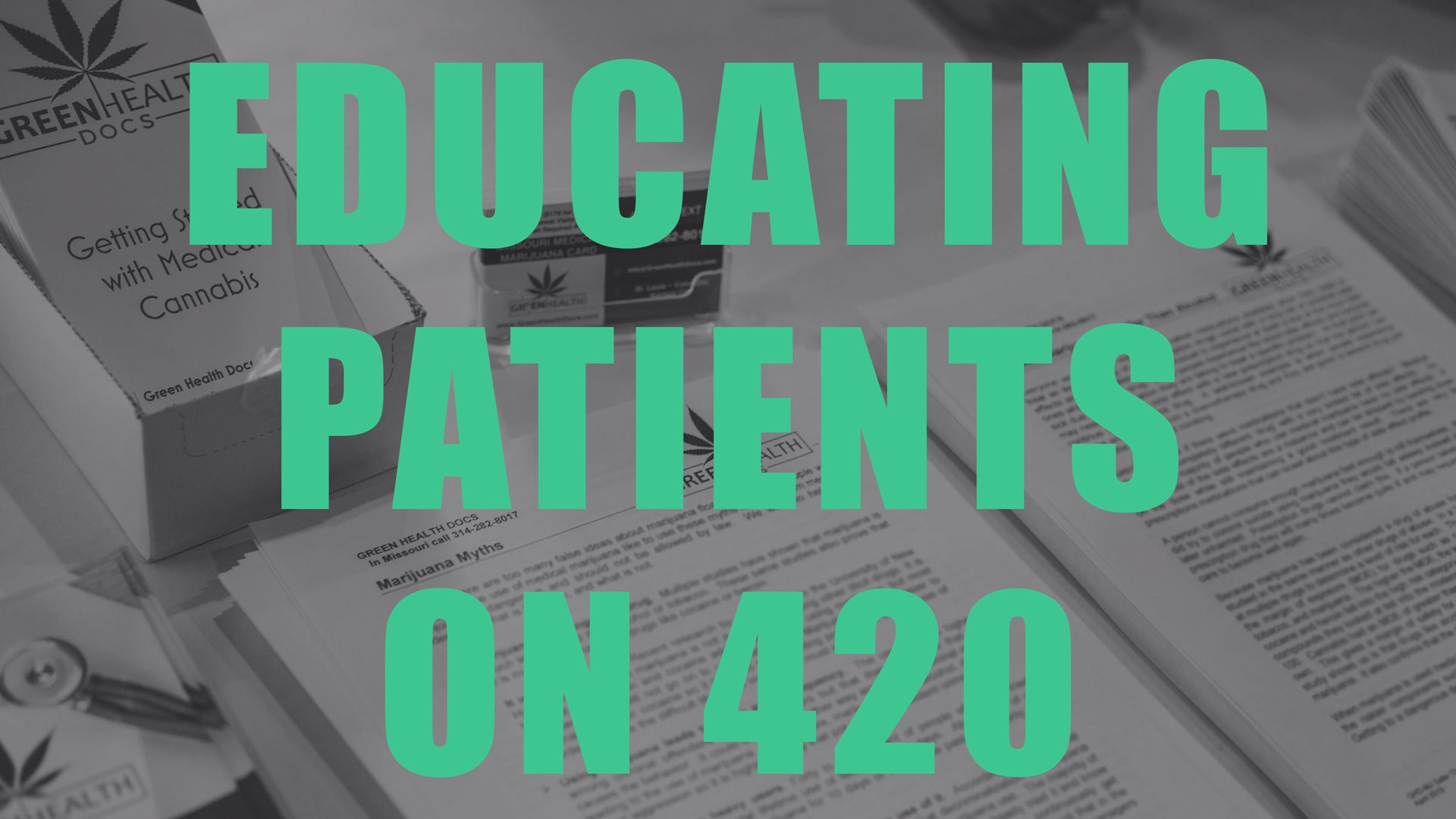 Green Health Docs Attend 420 Events In St. Louis & D.C.
There were hundreds of 420 events, festivals and celebrations held over the April 20, 2019 weekend. Green Health Docs attended several events, including the National Cannabis Festival in DC and Breaking the Stigma, a 420 fest held at Maggie O'Brien's Irish Pub in St. Louis. Green Health Docs was on hand to answer questions about cannabis, provide evaluations and share in the love of marijuana.
https://www.instagram.com/p/Bwki3BKBhap/
Breaking the Stigma in St. Louis
Breaking the Stigma was organized by Elite Home Growers Academy, a company that is ready and willing to help patients learn about growing marijuana for themselves at home. The theme was to help people better understand medical marijuana, what is involved, and what will be coming as the industry unfolds.
Our informational table at Breaking the Stigma was staffed by Patrick "Star" Wilson (a Maryland native), as well as Sara Cordry and Dr. Kathy Trumbull from Kansas City. Green Health's Patrick Wilson swirled around the event, meeting as many advocates, insiders and patients he could. "We're all working together to make a difference," Wilson stated. "It's about helping patients. That is why I do what I do."
The event featured a variety of advocates and businesses involved in the budding medical marijuana industry in Missouri, including:
Green Health Docs
ProTeam Brady's HEMP CBD Superstore
Missouri Cannabis Outreach
MoLeafs Glass and Grow
The Weed Squad
Jberry Designz
Intuitive Cannabis Industries (ICI)
Health City STL
Vaporized STL
Posie Pots
Mother's Finest Seed Company
Trap Soul & Paint
Maggie O'Brien's Is The Place To Be!
Maggie O'Brien's is known for its sports crowds. With a fun atmosphere, and great food, fans gather to cheer for their favorite St. Louis team. And on 420, things were no different! In between the DJ's marijuana-themed tracks, there were crowds cheering as the St. Louis Blues battled the Winnipeg Jets in their quest for the Stanley Cup.
This helped bring an even wider variety of people into the event. As it turned out, many already knew about medical marijuana in Missouri, and were interested in how to get their Missouri medical marijuana card. Others were still wondering what medical marijuana could be used for. Our Green Health Team made sure to educate the uninitiated about the benefits of medical cannabis.
Party in D.C.!
Meanwhile, the Green Health Team was in Washington D.C. over 4/20 weekend, attending the National Cannabis Festival at RFK Stadium, Washington, D.C.. The National Cannabis Festival is an annual event that draws thousands of advocates, patients and cannabis enthusiasts together under a celebration of music, art and fun. The Green Health Team was on hand, giving out swag and helping potential patients get signed up for their MMJ card.
Changing The Meaning Of 420
For many years, 420 has been a day to sit on the couch, get stoned and watch some movies or play some games. But times are changing. As marijuana becomes more readily available, either recreationally or medically, many advocates and enthusiasts are reexamining what 420 means to them. Advocacy and cannabis-user rights were key points of the National Cannabis Festival. 420 is not only a celebration of cannabis, but also a day to reflect on how much work still needs to be done before cannabis rights are completely reformed.
There are fellow cannabis users locked away in prisons, rotting away because they once possessed, or sold, marijuana. And a dishearteningly disproportionate number of these so-called "criminals" are African-American. But considering cannabis is legal in nearly a third of the United States, and over half the nation allows cannabis for medical purposes — isn't it time to reform our policies and let low-level cannabis offenders out of prison? The injustice is so broad that major companies like Ben & Jerry's have even stepped up and made cannabis rights their primary message on 420.
https://www.instagram.com/p/Bwe-qUahB22/
Spotlighting these themes on 420 is a daring and an important and necessary addition to the usual 420 festivities. Our team at Green Health Docs commends both Breaking the Stigma and the National Cannabis Festival for highlighting this painful chapter in cannabis history. If we all work together, we can make a difference!
420 Is Only The Beginning
The Green Health Team is looking forward to this summer! As May and June approach, we are planning to attend more events and festivals. Be on the lookout for Green Health Docs at your event. And if you'd like to see the Green Health Team at your event, or an event you like to attend, be sure to comment below!
If you're a qualifying patient in Ohio, Maryland or Missouri, give us a call at 1-877-A-420-Doc and get started on your journey today. Obtaining a medical marijuana card is a painless process, so call our offices. Our Green Health Support Staff will assist you with any questions you may have.