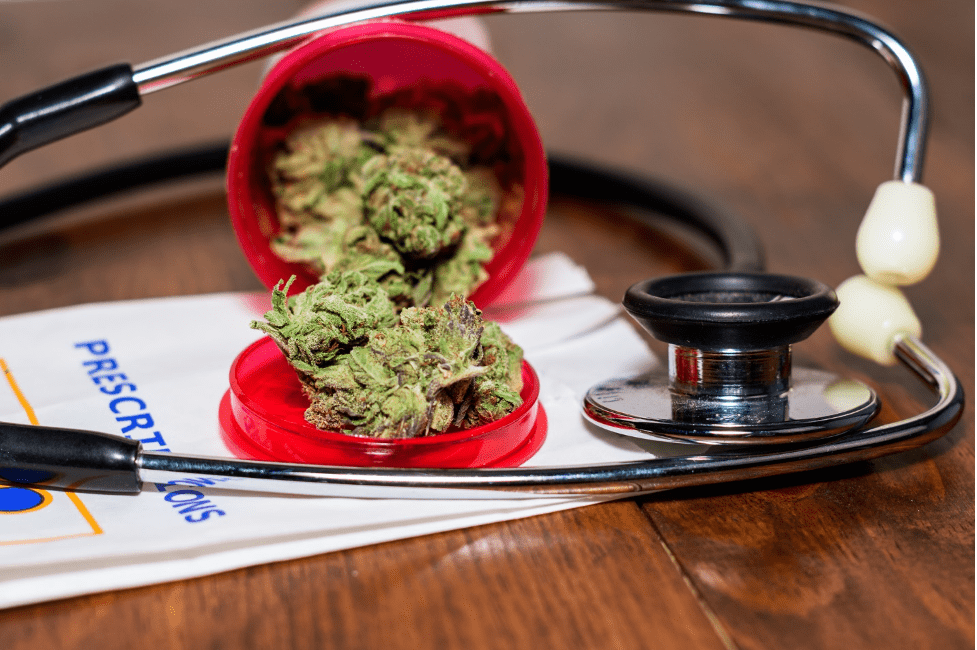 Fifteen Essential Reasons to Get a Medical Marijuana Card
You're considering a medical marijuana card, but you're wondering if the hassle of visiting a doctor is still worth it. Are there any real benefits? The short answer is yes, absolutely.
Don't miss out on the many awesome perks of being a cardholder. You'll have accurate dosage/labeling, save money, have access to more dispensaries, and much more. Support is more abundant, and your need will be validated.
Even if you live in a state where it's recreationally legal, you should consider getting a medical marijuana card. The benefits are endless, but let's start with a few popular ones.
Let's talk about the fifteen essential reasons to get a medical marijuana card.
What's a Medical Marijuana Card?
Also known as an "MMID" or "cannabis care" card, a medical marijuana card is used by patients as an ID to enter medical dispensaries or to have medical cannabis delivered.
MMIDs are issued by the state you live in, but first, as the patient, you need to visit a clinic and acquire a signed recommendation from a doctor qualified to do so. You and the doctor just need to agree that cannabis would be beneficial as, or in addition to, a treatment.
After you get the doctor's recommendation, you will apply through your state and then pay the fee, which is different for every state. As cannabis is still federally illegal, doctors can't simply prescribe it to you. So, depending on your state's policies and laws, the specifics may vary.
Why Get a Medical Marijuana Card?
While there are too many benefits to list here, trust us, you'll be glad you went through the registration process. It'll pay off in real money, convenience, and more.
You'll Save Money
Even if it's recreationally legal in your state, you'll save a lot of money over time by showing your card. This is true as long as you have one or more of the qualifying conditions. These are listed by state.
After the state registration fee and doctor visit, you'll start seeing savings. They show up as you start buying products. With a card good in Ohio, for example, you'll save about 30-40% every time you stock up, compared to what you'll eventually pay for recreational marijuana at a dispensary.
In a recreationally legal state like Michigan, for example, recreational products are more expensive in general. Without a card, they're charged a 10% excise tax. This will generally be true in Ohio (as soon as it's recreationally legal).
With this event seemingly around the corner, folks in Ohio should prepare wisely by registering for a card. These patients will only have to pay the 5.75% state sales tax, plus any local tax.
A Safer Alternative to Opioids
It's been found that the most common reasons why patients need cannabis is to provide relief from cancer treatment side effects. Number two is to relieve pain and inflammation due to chronic diseases. Three, four, and five being epilepsy/seizure disorders, HIV/Aids, and PTSD.
Many patients are searching for safer alternatives to opioids to treat it.
Opioids can make people feel relaxed and even high. This often leads to non-medical use, which can quickly turn into an addiction. Opioid abuse can sadly lead to overdoses and death.


Apply for a Medical Marijuana Card Online Today
Join over 100,000 patients who have chosen Green Health Docs as their medical cannabis doctors. We have a 99% approval rate and offer a 100% money back guarantee!
How Do Opioids Affect the Brain and Body?
The way opioids work is they bind and activate specific opioid receptors on cells. The cells are located within several areas of the brain, spinal cord, and other organs. The activation of those receptors results in a feeling of pleasure.
They actually block pain signals that are sent from the body and brain. This releases a lot of dopamine, reinforcing, and making it easier to rationalize, the act of taking it.
Besides temporarily relieving pain, opioids can have negative effects such as:
Slowed breathing
Drowsiness
Nausea
Confusion
Euphoria
Constipation
Misusing opioids can be dangerous because they can cause slowed breathing, which in turn causes hypoxia (not enough oxygen to the brain). It can have both short and long-term neurological and psychological effects.
These effects include brain damage, coma, or death. Research is ongoing.
Cannabis, on the other hand, is a completely natural pain killer. It's safer and works with the body's own endocannabinoid system to soothe certain ailments and conditions. Why risk an overdose or dependence when you can go get a healthier, often more effective alternative?
Medical Marijuana is Safer and Cleaner
There are strict safety and testing requirements for medical marijuana in the US. This results in safer products for registered card-carriers.
Products are analyzed carefully so you'll know the potency as well as the cannabinoids it contains. This will also assure you that your product is free of harmful contaminants like solvents, heavy metals, microbial toxins, and microbes.
Ohio uses a "seed-to-sale" system called METRC which tracks your plants and plant products. They're tagged, double-checked, and labeled with specific bar codes.
Recreational marijuana products, on the other hand, call for less stringent testing. The microbial load threshold requirement is lower, which means more harmful microbes. Looking at the numbers, they can have about ten times more microbes than medical products, making medical-grade products ten times safer.
India and China provide for 80% of the ingredients in US drugs, so you are provided with no purity or testing data whatsoever. How scary is that?
Legitimacy and Credibility
Many patients want natural solutions for their qualifying health conditions Most are not interested in getting high per se. They're interested in a non-pharmaceutical and safer alternative.
Speaking bluntly, cannabis won't kill you like some pharmaceuticals, and it doesn't show significant or harmful side effects for most people.
Medical marijuana patients are experiencing relief and actually taking fewer prescription medications over time, which has been the opposite of the norm and simply unprecedented.
Often, doctors, law enforcement, friends, family, and employers will, on occasion, judge people who use recreational marijuana (if this matters to you). You can add to your credibility/legitimacy by having a legitimate medical reason, and a card to prove it, lifting some of that judgment.
Better Labeling
With a card, you'll be able to see the actual contents, potency, etc. As we mentioned above, recreational pot doesn't require those stringent safety measures or accurate labeling like medical pot does.
This will open up a world of choices so you can learn what works best for you as far as potency, type, terpenes, cannabinoids, etc. You'll also have the peace of mind knowing you're choosing something using accurate information.
Higher Potency Limits
You'll also get access to more potent bud, edibles, lotions/salves, concentrated oils, and tinctures because the threshold for medical edibles is significantly higher (with a maximum 35% concentration in Ohio) than that of recreational products.
Just as having a prescription from a doctor will provide you with stronger pharmaceuticals, having an MMID will provide you with stronger cannabis products, and without the danger.
Skip the Line
You'll have access to more dispensaries.
Some are solely for medical patients. Other combined recreational and medical dispensaries will let you skip ahead in line if you have a card.
Travel
You'll be allowed to enter those in your state as well as states that honor out-of-state medical cards. This comes in handy if you're traveling and want/need medical-grade marijuana.
Lower Age Requirement
Currently, in Ohio, there is no age restriction for medical marijuana patients. If the patient is under 18, they must be accompanied by a guardian.
According to Amy Brooks-Kayal, MD at Children's Hospital Colorado, the stories she hears from families interested and eager to try medical marijuana are quite moving and understandable, because any parent who has a child with this kind of life-altering condition would want to do anything possible to help their child.
If they have a medical card, they have access to professionals who can monitor their condition, as well as any side effects the medical marijuana might be having.
Higher Possession Limits and Purchasing Limits
Find your state's medical marijuana possession and purchasing limits and then evaluate whether it will benefit you to have a card.
The state of California, for example, allows qualified patients to legally possess eight ounces of dried marijuana and/or six mature marijuana plants. Residents can possess larger amounts if recommended by a doctor.
Avoid Busy Medical Facilities (During Covid-19)
Medical marijuana doctors sometimes have small offices out of the way of busy medical facilities. Take advantage of this option during and after the Covid-19 pandemic to increase your chances of staying healthy.
Since marijuana can help with many different ailments, you don't have to go see your normal doctor for each one as they occur, unless necessary. Avoid germs and waiting rooms as much as you can to help the spread.
Grow Your Own in Some States
Some medical states allow for patients to grow at home and more than those without cards in recreational states. At the very least, there is usually some wiggle room as far as how much cannabis patients are allowed to grow.
Stay up-to-date on possession laws by state so you know before you grow your own supply. It's probably harder to get marijuana in prison, so be careful.
In Oregon, for example, medical growers are allowed up to six plants. Recreational growers are only allowed four. So, having a card and growing your own is a great way to offset your dispensary costs if you need it daily.
As states (and feds) ease into legalization, we'll see adjustments to these limits, so stay current on national and state legal news when it comes to marijuana.
Cannabis Has a Proven History
Cannabis can be traced back all the way to ancient Egypt, where the seeds were burned and inhaled, perhaps as part of a ritual.
In parts of the ancient world, the hallucinogenic properties of cannabis were popular. These places included Nepal and India, where they used it to induce trance-like states.
In China, during the 1st century AD, it was used for medicinal purposes. It was commonly used with other herbal remedies.
Medicinal marijuana use spread across the world to places like the Middle East and India. We see it was used for manufacturing materials, recreation, and religious ceremonies.
In fact, it was never outlawed in India and is still an integral part of their Ayurvedic Medical system.
Napoleon's soldiers, in the 19th century, brought it as a recreational drug from North Africa to Western Europe. It was also used to ease pain, as experienced during childbirth, for example.
During the late 19th and early 20th centuries, it became an important part of many herbal remedies of the time.
Allowed for a Wide Range of Conditions
In Ohio, for example, the conditions for which medical marijuana cards are allowed are:
AIDS/HIV,
Alzheimer's disease
ALS
Cancer
Chronic traumatic encephalopathy
Crohn's disease
Epilepsy
Fibromyalgia
Glaucoma
Hepatitis C
Inflammatory bowel disease
Multiple sclerosis
Chronic pain
Severe or intractable pain
Parkinson's disease
Sickle cell anemia
Spinal cord disease or injury
Tourette's syndrome
Traumatic brain injury
Ulcerative colitis
More Support
There are many avenues of support for those people with a medical marijuana card, including their prescribing doctor and state-specific hotlines.
Pass it On
The benefits of getting a card far outweigh the small effort to see a cannabis doctor and pay a couple of fees, depending on your perspective. In the long run, you'll save a bunch of money and get better quality products.
Whether you smoke, vape, apply, eat, drink, or vape, you'll have access to the best of the best. It's a natural solution to wellness, and a cleaner, safer, and less expensive alternative.
Contact us with any questions about medical marijuana cards or if you'd like to join our team.