Maryland Medical Marijuana Card
In order to purchase and use cannabis for health problems, all patients must get a legal Maryland medical card.

Join over 50,000 Maryland residents who have chosen Green Health Docs as their medical cannabis doctors. We offer risk-free MMJ card certification.

If you don't qualify, we refund 100% of your money.

Green Health Docs is an organization founded by medical professionals committed to helping Maryland patients gain access to natural, less-habit-forming medications. Our green clinics are located throughout the state to allow our licensed medical marijuana doctors provide complete evaluations and qualify patients for medical cannabis.
Maryland Medical Card Requirements
Age & Residency Requirements
You must be a resident in the state of Maryland. At this time, the Maryland Medical Cannabis Commission (MMCC) is not allowing out of state patients to qualify. We will keep patients up to date on any new developments via our Facebook page. so be sure to follow us.

There is no minimum age requirement in Maryland. Patients under 18 can qualify but they must be accompanied by a parent or guardian.
Qualifying Conditions
Medical marijuana can be used for ANY severe condition for which other medical treatments have been ineffective, and if the symptoms reasonably can be expected to be relieved by the medical use of medical cannabis. Virtually all conditions qualify!

There are many qualifying conditions. If you want to be 100% sure if your condition qualifies please give us a call or text at 1-877-242-0362!
Medical Documentation
Medical records are NOT required but having them can be very helpful!

For your first visit with Green Health Docs, you will want to bring any documentation or proof that can be used to verify your medical condition. This includes, but not limited to, things such as: pill bottles, prescriptions, medical records, doctor's notes and/or anything else that confirms your medical history with the condition.
Get Evaluated
A Green Health Doctor will evaluate you by reviewing your medical records and performing a physical examination.

After that, you'll be registered and ready to go.
Patient Resources
Here are a few important resources for patients (or family of patients) hoping to obtain a Maryland medical card or learn more about medical cannabis:
Maryland Medical Marijuana Card Telemedicine Option
If you don't live near one of our Maryland medical marijuana doctor clinics, or if you're unable to meet with us in person, we also offer telemedicine evaluations to patients throughout the state. To get started, fill out the form.

You can also call our support team at 1-877-242-0362, and we will be happy to set up an appointment for you. One of our Maryland medical marijuana doctors will call you at the appointment time and evaluate your medical history and eligibility over the phone. If you qualify, we'll send you your certification by mail. It's that easy.

CONTACT US TODAY TO GET STARTED
Getting a Maryland medical marijuana card online has never been easier. No matter where you live in the Old Line State, our licensed doctors can help you get legal today without any hassle. Our telemedicine evaluations are available to all Maryland residents. Even if there are no Green Health Docs clinics near you, you can still see our physicians via video conference at no extra cost.

Simply set a telemedicine appointment online, click the link we send you for your scheduled appointment date & time and our doctors will evaluate you via a video call. Once certified, a patient can visit medical cannabis dispensaries.  For more information about how to qualify or to view our cannabis education resources, you can view the information below.
Maryland Medical Marijuana Clinic Locations
Green Health Docs has several Maryland clinics to serve patients. 

To schedule an appointment at any in-person clinic,
click on the clinic location below
7909 Pulaski HWY FL 1

Rosedale MD 21237

304 Delaware Rd

Frederick, MD 21701

15 E Oak Ridge Dr

Hagerstown, MD 21740

1010 Rockville Pike, Suite 215

Rockville, MD 20852

11701 Central Avenue, Suite 102

Waldorf, MD 20601
To schedule your appointment with any of our Maryland medical marijuana doctors, email us at info@greenhealthdocs.com or give us a call at 1-877-242-0362.
Maryland Medical Cannabis Card Frequently Asked Questions
Maryland Medical Marijuana Certification Process
The registration process is a bit different in Maryland than in many other states. While many states require you to obtain a physician's certification and then register with the state, Maryland does things in reverse.
First register as a patient with the Maryland Medical Cannabis Commission (MMCC). You'll need to create an account on their website and provide a current ID and proof of Maryland residency.
Schedule an appointment at any Green Health Docs medical office in Maryland.
Visit us at the scheduled time to receive an evaluation from one of our licensed Maryland medical marijuana doctors. If you have a qualifying condition, your physician will provide you with a written certification.
Submit your certification to the MMCC and print out your temporary MMCC patient ID card. Your permanent card will arrive in the mail.
Once you have your MMCC patient ID card, you can visit any licensed medical marijuana dispensary in Maryland.
Maryland Medical Marijuana Card Information From Our Physician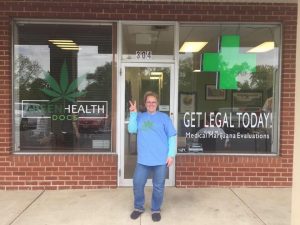 Recently several dispensaries finally opened their doors in the state of Maryland. This is an exciting time for patients who have waited so long to get the medicine they need. We couldn't be prouder to be a Maryland native and a certified cannabis physician in my home state. Even with dispensaries opening and Maryland's medical marijuana program gaining momentum, many patients are still unclear on how to obtain a Maryland medical marijuana card. Green Health Docs have helped over 4,000 patients navigate through this confusing process, and we can help you get certified as well.
Register with the MMCC as a Patient or Caregiver
Patients should become very familiar with the Maryland Medical Cannabis Commission's website. The first step in obtaining your medical marijuana certification is to register on the commission's site. In order to register, patients will need to have:– a qualifying condition (see below) – a government-issued identification card (such as a driver's license or passport) – a valid email address.Additionally, you will be required to upload a passport size photo (from the shoulders up with a white background; no hats or glasses). This photo can be taken on any camera or cell phone and then cropped to the appropriate dimensions on the MMCC website. If you have any trouble using the website or registering, our staff at any of our Maryland offices will be happy to assist you. You can also contact us here with any questions.
Obtain Your 16-Digit Maryland Cannabis Patient ID Number
After successfully registering on the MMCC website, you will receive a 16-digit Cannabis patient I.D. number in about 5-10 business days. There is no age limit for patients, but patients under the age of 18 are required to have a legal guardian or parent serve as their caregiver in order for them to obtain medical marijuana. In the case of patients under 18, both the patient and the caregiver (parent/guardian) will be required to obtain a certified number. After obtaining your number, you will be ready to see a medical marijuana physician in Maryland.For patients having trouble obtaining their ID number via the online application (or the required upload of an appropriate photo), we recommend coming to one of our Maryland locations for assistance.
Get Your Medical Cannabis Patient ID Number First
After completing the MMCC registration process and obtaining a MMCC patient ID number, you are now ready to see a registered Maryland cannabis physician. Obtaining your number prior to your doctor visit means that you can go straight to the dispensary on the same day right after seeing the doctor. If you see the doctor first and then register on the MMCC website, you must wait to get your number from the MMCC before visiting a dispensary. It can take up to 10 business days to receive your ID from the state.
Finding a Registered Medical Marijuana Physician In Maryland
The vast majority of physicians and other medical professionals are not comfortable with certifying patients for the Maryland medical cannabis program because marijuana remains illegal on a federal level. In addition, a doctor or medical provider must be registered with the Maryland Medical Cannabis Commission in order to certify patients for the program. It can be difficult for patients to find a provider who will certify them.Green Health Docs has six locations across the state to make the process easy for patients. All Green Health Docs providers are certified with the Maryland Medical Cannabis Commission and can legally certify you for the program. In order to see one of our providers, you must bring in medical documentation to verify that you have a qualifying condition. Our physician will then evaluate you, review your medical records, and certify you for the program. Once certified, you will be able to obtain your medicinal cannabis at any of the Maryland dispensaries.
Out-of-State Patients and the Maryland Medical Marijuana Program
The Maryland Cannabis Commission (MMCC) recently decided to place out-of-state patient registrations on hold with no clear indication on whether these patients would ever be allowed access to medication. The frustration we feel was accurately described in this article: "MMCC Fails Out of State Patients". As a certifying cannabis physician, I recall several out-of-state patients coming to one of my centers, but one experience really sticks out. I specifically recall a North Carolina mother who drove to Maryland with her 9-year-old autistic son.
The mother was thrilled that Maryland allowed medical marijuana use for out-of-state patients. She told me that her son was less anxious and more productive with the use of cannabis oil. I am a firm believer that every patient should be offered the same medical privileges no matter what state they live in, and it truly broke my heart to see this mother and her son have their medical marijuana certificate revoked by the MMCC. We believe we can work together to change this ruling over the next few months, because everyone should be able to have the same medical benefits regardless of residence.