Kansas

Medical Marijuana
Card Online
Join over 100,000 patients who have chosen Green Health Docs as their medical cannabis doctors. We have a 99% approval rate and offer a 100% money-back guarantee!
Doctor Owned And Operated
Our Agents are Patients Too
How to Get a

Kansas

Medical Marijuana Card
Once we begin accepting appointments, you can schedule a time to be evaluated by our doctor on our website or by calling/texting 240-356-1000.
Our doctor will determine whether you qualify for a medical card after a quick 10-15 minute evaluation.
If you're approved, we'll help you with the rest of the process to get your medical card.  Typically this involves an online registration with the state.
Status of Medical Marijuana in

Kansas
At this time, Kansas is one of the only remaining states that does not have a medical marijuana program in place.  However, there is currently a proposed bill (Senate Bill 315) that would create the Kansas Medical Marijuana Regulation Program as well as define all rules and regulations related to the program.
According to state representatives, the bill will most likely be up for consideration sometime in 2022.  We will continue to update our information as more details develop, but the best way to stay informed is by joining our Kansas Medical Marijuana Card waitlist.
Kansas

Medical Marijuana Card Waitlist
Sign up for our waitlist to be contacted once we begin taking appointments for the Kansas Medical Marijuana Program.
Have Questions About Kansas Medical Cannabis?
Why Choose the Cannabis Doctors at Green Health Docs?
Unfortunately no, Kansas is one of the only remaining states without an active medical marijuana program.  There is however a bill that has been proposed that would establish a medical marijuana program most likely sometime in 2022.
We won't know the exact requirements to obtain a Kansas medical marijuana card until the program is fully established.  The bill that is currently being proposed would require patients to be residents of Kansas and to have a doctor verify that they have one of the state-approved qualifying medical conditions.
Once we begin accepting appointments, you'll be able to schedule on our website or by calling/texting 240-356-1000.  In the meantime, we recommend joining our Kansas medical marijuana card waitlist so that you can be one of the first people we contact to schedule an appointment.
You will need a valid Kansas ID and if possible, proof of your qualifying medical condition such as medical records, a letter from your doctor, or prescription pill bottles.
If you don't have medical documentation, you can still get certified! Call or text us at 240-356-1000 so that we can schedule you with a doctor that can diagnose and then a doctor that can certify you. We do not charge extra for the diagnosis.
The official qualifying conditions have not yet been established.  Senate Bill 315 that is up for consideration in 2022 lists the following qualifying conditions:
Alzheimer's disease;
Amyotrophic lateral sclerosis;
Cancer;
Chronic traumatic encephalopathy;
Crohn's disease;
Epilepsy or another seizure disorder;
Fibromyalgia;
Glaucoma;
Hepatitis C;
HIV/AIDS
Inflammatory bowel disease;
Multiple sclerosis;
Pain that is either chronic and severe or intractable;
Parkinson's disease;
Post-traumatic stress disorder;
Sickle cell anemia;
Spinal cord disease or injury;
Tourette's syndrome;
Traumatic brain injury;
Ulcerative colitis;
A debilitating psychiatric disorder that is diagnosed by a board-certified psychiatrist;
Any other chronic, debilitating or terminal condition that a doctor determines could benefit from the use of medical marijuana.
It will most likely be about $200 to be evaluated by our doctor for a one-year certification.  There will also be a required $50 registration fee paid directly to the state.
Only a licensed medical marijuana doctor can determine if you qualify for the program, so we cannot guarantee your approval. However, if you do not get approved by our doctor you will receive a FULL refund! 
No, doctors who wish to certify patients for medical marijuana will need to apply to the state once the program is up and running.
Patients will most likely need to apply online with the state and pay the required $50 registration fee.
No. Insurance companies do not cover any costs associated with medical marijuana due to conflicts with federal law.
According to the proposed bill, patients will be allowed to possess a 30-day supply of medical marijuana as determined by their certifying doctor.
The proposed bill would allow for oils, tinctures, raw plant material, edibles, topicals, patches, and more.  Smoking of medical marijuana would be prohibited.
The currently proposed bill would NOT allow for the home cultivation of medical marijuana.
A caregiver is a Kansas resident aged 21 or over who is designated by a medical marijuana patient to be able to purchase and possess medical cannabis on behalf of the patient.  They are also designated to help dispense and administer medical cannabis for the patient.
No, as a medical patient you are protected by HIPAA. Green Health Docs makes the privacy and security of our patients' confidential information a top priority. No one will be able to find out your status as a medical marijuana patient unless you openly tell them or if you are administered a drug test for marijuana.
Medical Cannabis Card
Frequently Asked Questions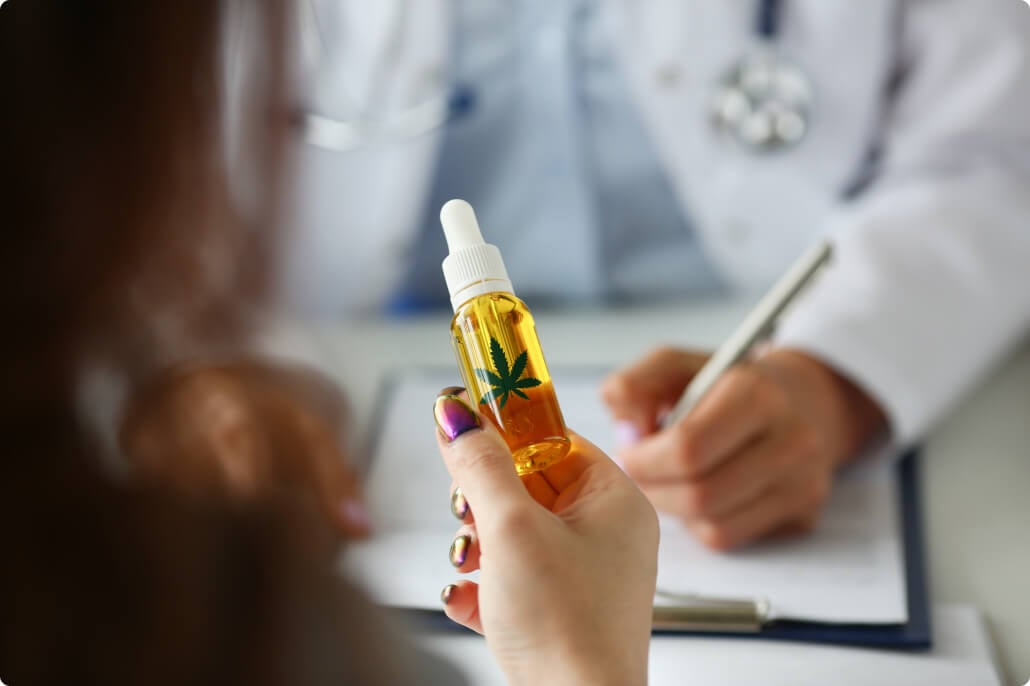 Here are a few important resources for patients (or family of patients) hoping to obtain an Kansas medical card or learn more about medical cannabis: